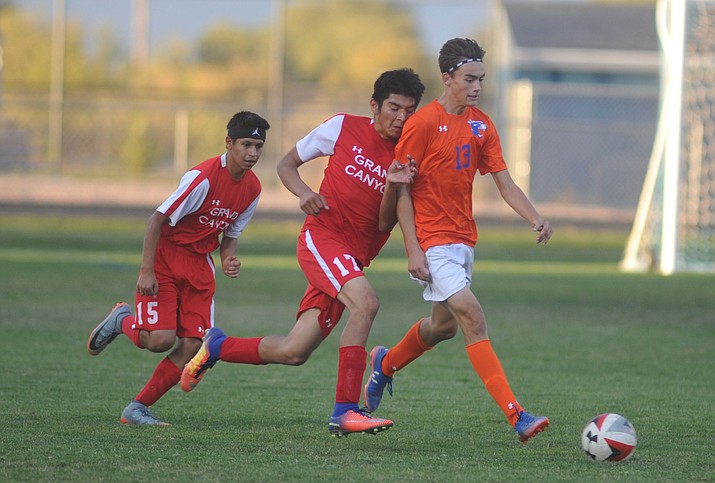 Originally Published: October 19, 2017 6:05 a.m.
Photo Gallery
CVHS vs Grand Canyon Soccer 101817
Matthew Rios scored three goals for a hat trick and added two assists, Elijah Desmond chipped in with two scores and the Chino Valley boys' soccer team collected its 15th shutout of the season with a 13-0 rout over Grand Canyon on Wednesday night.
It is the 31st straight victory for the Cougars (19-0, 5-0 2A Central) going back to last season, and their 19th in a row this fall.
Second-year head coach Todd Carey said his club is "playing really well" right now, adding matches like Wednesday night's with the Phantoms are "hard to coach."
"You're trying to be respectful and not run up the score," Carey said, adding at the same time his team needs to get ready for the playoffs.
The four-time defending state champion Cougars have rarely been challenged this season. Other than two one-goal victories (2-1) against rival Camp Verde in early September and a 2-1 overtime victory against Phoenix Country Day earlier this month, most matches have been blowouts.
"We're playing really well. … After Tucson, when we faced Phoenix Country Day and were behind, we battled back, tied it up and won it," Carey said. "We've come through really well."
The No. 1-ranked Cougars have outscored their opponents 132-5 this season.
Desmond added two assists to his goals against Grand Canyon (1-6-1, 1-4 Central), while Jairo Herrera scored a goal and recorded two assists. Cougars' Goalkeeper Willie Chinchilla had three saves in 80 minutes between the posts.
Wednesday night's win over Grand Canyon was the 17th straight victory at home for Chino Valley, which has gone 45-1-1 on their home field since 2013.
UP NEXT
Chino Valley heads over Mingus Mountain to play rival Camp Verde (13-2-2, 7-1 Central) tonight for a 2A Central region title.
The No. 3-ranked Cowboys have won 10 straight power point matches dating back to Sept. 12. The last loss came at the hands of Chino Valley in a 2-1 defeat Sept. 7.
"We have another tough game tomorrow at Camp Verde," Carey said. "That will be a good tell to see where we're at as a club."
Official start time tonight is set for 6 p.m.
Brian M. Bergner Jr. is associate sports editor and a columnist for The Daily Courier. Follow him on Twitter, Instagram and SoundCloud at @SportsWriter52, or on Facebook at @SportsAboveTheFold. Reach him at bbergner@prescottaz.com or 928-445-3333, ext. 1106.