Two wildland fires in two days
Originally Published: October 18, 2017 6:02 a.m.
Photo Gallery
Empire Fire 101717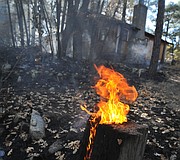 Fire crews were kept busy on Monday and Tuesday as they responded to two wildland fires in the forest.
On Monday Prescott National Forest fire crews responded to the Charcoal Fire just off the Green Gulch Trail in the Blue Hills area of Dewey/Humboldt. The 1.5-acre fire's cause remains under investigation but it is believed to be human-caused.
Tuesday, fire crews from Groom Creek, Prescott, Prescott National Forest and the Lewis Correctional Crew responded to the Empire Fire in Groom Creek off Beth Lane and Senator Highway.
The one-acre fire burned a storage shed and directly threatened 10 homes, according to incident commander James Robbins of the Arizona Department of Forestry and Fire Management. Engines and water tenders from Groom Creek, Prescott and Central Arizona Fire & Medical, Prescott National Forest as well as 36 personnel got a line around and handle on the fire.
The Empire Fire burned on private property and, similar to the Charcoal Fire, is believed to be human-caused and under investigation.
More like this story
SUBMIT FEEDBACK
Click Below to: