Local business woman opts for integrative medicine to deal with breast cancer
In the Pink: Breast Cancer Awareness Month

By
Nanci Hutson
|
HutsonNanci
Originally Published: October 15, 2017 6:04 a.m.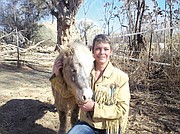 Lisa Ross-Williams and her husband, Kenny, are nature-connected entrepreneurs who have long embraced a ranch lifestyle complete with a full corral of five horses, two goats, two dogs and eight cats.
A lively, energetic woman with a passion for the power of nature to heal and restore people and animals, Lisa found herself a year ago faced with an unexpected medical diagnosis that pushed her to think about how her beliefs would play into any treatment she was to undergo.
At 51, Lisa detected a small lump on her left breast. She underwent an inconclusive mammogram followed by an ultrasound and needle biopsy.
On July 19, 2016, she was delivered the news no woman wants to hear: she was diagnosed with estrogen and progesterone-positive breast cancer. The good news was that it was isolated, but her initial medical team encouraged surgical removal followed by radiation, and possibly, chemotherapy.
"It was a bit of a shock, and a little scary," her husband confessed.
They were sent for a consultation with a local surgeon. They departed with a sense of urgency that made them both uncomfortable.
Lisa started doing research — she underwent genetic testing and determined she had no genetic markers for such a cancer — and decided she did not wish to follow a traditional protocol.
Beyond expenses not covered by the couples' high-deductible medical insurance, Lisa was wary those treatments would do more harm than good. She opted to pursue integrative medicine, including a vegetarian diet, vitamin and herbal supplements, including some intravenous injections, medical mushrooms and medical marijuana. She received mistletoe injections through a Canadian supplier that are now banned in the United States.
At first, Lisa admits the alternative treatments left her lethargic and depressed. She lost a lot of weight because she was so nauseous. After a consultation with her practice' dietitian, her diet was altered to include more meat. She, too, was put on some additional vitamin injections.
Her integrative medicine physician, Dr. Robert Zieve, declined to comment on a current patients' treatment or prognosis.
The Williams are candid the therapeutic approach they selected may not be for everyone. The costs are not covered by insurance; the couple has drained a significant amount of savings so Lisa can undergo this brand of treatment. As she is a United States Air Force veteran, Lisa said she is eligible for some VA medical benefits to cover certain costs.
Lisa accepts there are "no guarantees" with this brand of treatment, but traditional oncology also comes with no guarantees, she said.
As of right now, Lisa said she feels "fantastic."
In November, Lisa said she will undergo another full body screen to see if the cancer has spread.
Then she and her husband will have more decisions to make. At this time, Lisa said she is firm she wants to continue with natural healing methods.
"For me, personally, I don't want to go there," Lisa said of surgery, radiation and chemotherapy. "I'd rather have a quality of life even if it's only five or 10 years.
"I'm not afraid of death. I feel like I've lived a good life. I don't want to go, but I'm not afraid."
Her husband steadfastly supports whatever she decides. "I do accept she has made the best decision for her, and for us," Kenny said. "Some people go through surgery, radiation and chemotherapy, and their life is so diminished. Is it better to have five or six years on that path or five or six years of feeling healthy, and come to the same result?"
To the Williams, quality of life is key.
Lisa and Kenny both play in a Prescott softball league, and for their recent anniversary went on a two-day vacation to the Juniper Well Ranch.
If she has one message to share with other women diagnosed with breast cancer, Lisa said it is to take the time to make a decision that fits them.
"Don't base your decisions on fear," she declared. "Everybody is different. I'm not going to judge you, and you don't judge me, but I think we should all be empowered enough to make our own decisions."
---
The couple — who own and operate Red Pony Productions — live on a Williamson Valley ranch where they savor watching the sunrise and sunset whether on horseback or from their back porch. Lisa is the publisher of Natural Horse Magazine and creator of Equi-Spirit that produces and sells natural, and durable, balls and other toys and tools for horses and their trainers/owners.
More like this story
SUBMIT FEEDBACK
Click Below to:
This Week's Circulars
To view money-saving ads...