Drones called in to help officials with fire at old sawmill site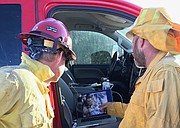 Normally drone owners can get in serious trouble flying their unmanned aircraft systems (UAS) over wildfires — unless, that is, they have been called in by fire officials.
Matthew Mintzmyer, Yavapai College UAS instructor, was asked to assist in an industrial fire west of Ash Fork that closed a section of Route 66 Thursday, Oct. 12.
The fire, at an old sawmill site, is producing large quantities of smoke making it difficult for firefighters to locate and manage hotspots, said Incident Commander James Robbins, Arizona Department of Forestry and Fire Management, who arrived on the scene Monday, Oct. 9. Firefighters using water trucks couldn't tell exactly how far the water reached or how effective it was at putting out the flames.
"It was one of those situations where the wind was so heavy and the smoke laid over, we had no visibility on the other side of the line," Robbins said. "Flying the IR (infrared camera), we got a much better look."
The fire is located at the 30-acre site of an old sawmill where wood chips, sawdust and partial logs have built up 15 to 20 feet deep in some places. Firefighters have spread out some of the deep piles, which has helped, said Denny Foulks, Yavapai County Emergency Management coordinator.
"This is not your typical fire. It's burning subsurface, and therefore, it's difficult to address," he said.
Usually personnel will use a handheld heat recognition device to track fires, but Foulks needed something with a larger capability. So he called Mintzmyer and connected the instructor with the incident commander.
Mintzmyer said, at first, it seemed fire officials didn't think using UAS, known more widely as drones, would be that big a deal.
"But once they saw what we had, yes, they invited us back up there with our students on Friday," he said.
The drone's camera was able to pinpoint where the water had not reached in the smoke-filled site and which direction the fire was spreading. The wind was blowing at 30 knots — nearly 35 mph — on Thursday and smoke masked a lot of the area from viewers on the ground.
"The flames jumped the road, and we were able to show them where that was at," Mintzmyer said. "You couldn't see any hotspots or fire through the smoke."
The drone was able to fly at 200 feet and, with the thermal imaging camera, identify the location of hotspots. Robbins said the drone showed firefighters how far the water from the truck was penetrating; they then sent in a second truck.
"There's nothing we can do with the fire except contain it and try to manage the smoke. It's going to be burning for at least a month, possibly months," Robbins said, adding that the smoke impacts will reduce over time.
The Arizona Department of Transportation has issued a warning for smoke/visibility on Interstate 40 about four miles east of Seligman at milepost 128, said Garin Groff, ADOT public information officer. In addition, Yavapai County has closed a county portion of Route 66.
The wind caused the smoke column to lay down across the highway making Route 66 dangerous, Foulks said.
"There's no visibility; it smolders a lot. It's not like a forest fire, what we usually deal with. This is an industrial fire," he said.
Fire personnel have made headway, a large portion on the south side of the property is contained, and work accomplished shoring up the western and northern sides. The exposed end is on the east side, Foulks said.
Drivers should take care along I-10 and Route 66 if they plan to travel in that area in the next week or two.
"Due to the nature of the fire, it will be burning for a very long time," Robbins said.
More like this story
SUBMIT FEEDBACK
Click Below to: