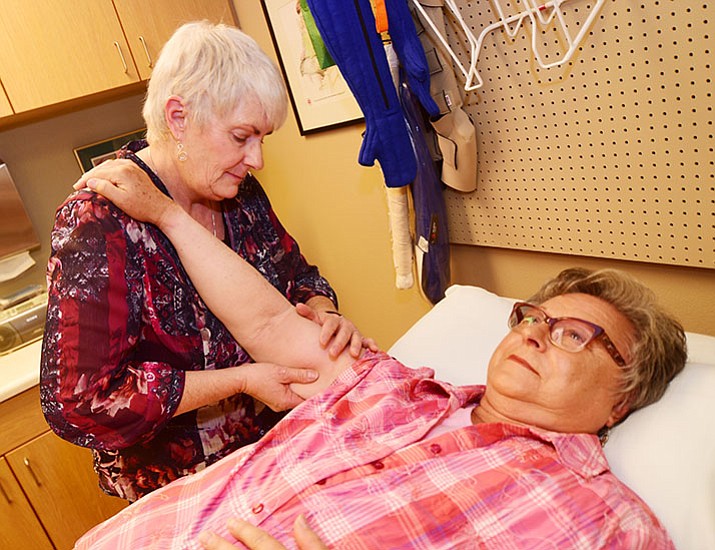 Originally Published: October 14, 2017 8:15 p.m.
Women who have been treated for breast cancer can be at a higher risk for developing lymphedema.
It's a serious swelling condition that can happen anywhere in your body, but usually in your arms and legs.
"The lymphatics remove tissue fluids that have cell waste in there," said YRMC Occupational Therapist Donna Hannah, OTR/L, CLT-LANA, who is certified in lymphedema care. "The lymph node breaks down the waste in the fluid and takes care of it. That's what lymph nodes are for."
Lymphedema is often a side effect of cancer surgery, if the lymph nodes are removed to see if cancer has spread.
It may also result from radiation therapy, infection or injury to the lymph nodes.
Symptoms of lymphedema include:
• Swelling of a portion of, or all of, an arm or leg.
• Sensation of heaviness or tightness in your arm or leg.
• An aching or uncomfortable feeling in the affected limb.
• Recurring infections in the arm or leg.
• Hardened or thickened skin in the affected area.
There's no cure for lymphedema.
"It always progresses and get worse," Hannah said "These people are at very high risk for infections."
She said at least 10 million people in the U.S. have lymphedema or lymphatic conditions.
If you've had surgery or damage to your lymph nodes or vessels, you should:
• Try not to cut, scrape or burn the affected area, as this can cause infection.
• Talk to your doctor about lymphedema before having your blood pressure taken, giving blood or getting vaccinated in an affected limb.
• Avoid strenuous activity until you've fully recovered from cancer treatment.
• Don't apply heat to an affected area: heat can increase build-up.
• Clean and inspect the area every day.
• Look for changes or breaks in the skin that could lead to infection.
If you experience symptoms associated with lymphedema, contact your physician right away. You may want a referral to an occupational or physical therapist in your area. Look for one who has undergone specialized training in the treatment of lymphedema.
One in Yavapai County
Residents of Yavapai County are fortunate; we have access to Hannah.
"In the United States, there's only one trained lymphatic therapist for every 250,000 people," she said, "so I'm the only one in Yavapai County."
There's some hope for improved treatment on the horizon.
"There are a lot of medications that are under clinical trial to see if they can prevent lymphedema," Hannah said. "And new surgical approaches that either repair or rebuild the lymphatic system are also coming around in the United States."
She added that there is also a type of surgery that transfers a lymph node from one part of the body to another, "and they're having a lot of success in diminishing or controlling the lymphedema through that."