Prep Football: Bagdad blitzes Wildcats, extends win streak to 20
Sultans QB Loveall accounts for 11 TDs, Bagdad claims region title
By
Doug Cook
|
dougout_dc
Originally Published: October 13, 2017 11:45 p.m.
Photo Gallery
Mayer vs Bagdad Football 101317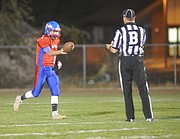 Under the lights on Friday the 13th, Bagdad's undefeated 8-man football team was far from spooked. In fact, facing rival Mayer in Spring Valley, the Sultans continued their two-year-long dominance in the 1A ranks.
Bagdad star quarterback Israel Loveall unofficially threw for 434 yards and five touchdowns and ran for 336 yards and six TDs, leading the No. 2-ranked and defending state champion Sultans to a 76-48 victory over the No. 4 Wildcats for their 20th straight win.
"In big games, you always want to play at the championship level," Loveall said. "We weren't really planning on me running the ball. That's just how it worked out with how they were playing defense. We found the holes to exploit them, and it was just a good all-around night."
In the process, Bagdad captured its second consecutive 1A West region crown. The Sultans did so a season after graduating six key starters on both sides of the ball.
"With the guys that we lost last year, it's a huge accomplishment," Bagdad coach Dalton Mills said. "We've got a lot of sophomores that are playing and had to step up. But Mayer did a great job. They're a better team than I thought."
Loveall stole the show, piecing together a monster performance. He not only scored on rushing touchdowns of 60, 1, 70, 42, 22 and 70 yards, he threw TD passes of 41, 15, 46, 76 and 15 yards. Toward the end of the game, Loveall put a scare into his teammates and fans when he was tackled hard and hyperextended the elbow in his non-throwing right arm.
He would be OK.
"Tremendous," Mills said of Loveall's heroics. "That's probably the best single-man performance I've seen since I've been coaching in 8-man."
Mayer coach Mike Gutierrez said Loveall's speed overwhelmed his defense.
"I knew he was fast, but he's a pretty quick kid," Gutierrez added. "He's a dual threat. He can throw it, and then you've got to honor his run. And he showed that tonight."
Sultans wideout Scott Finnerty hauled in nine catches for 230 yards and two TDs. Tony Ventura followed with four receptions for 94 yards and two TDs, and Rio Delgado had three grabs for 76 yards and a TD.
Finnerty said winning the region was "kind of a big statement." Like Mills, he credited Loveall for probably playing the "best game I've seen him play."
Mayer quarterback Dylan Wilhide rushed for three TDs, including scores of 1, 80 and 47 yards. He also threw a gorgeous 60-yard TD pass to Dade Herbert.
Wildcats fullback Dacodah Jensen carried quite a heavy load for the hosts, reaching pay dirt on TD runs of 10, 7 and 31 yards.
Jensen said Mayer's defense "wasn't up to par yet" and that "we need to work on it."
"We just have to put this behind us, lick our wounds and go on," Jensen added. "All we can do is hope for the best. The main goal is to win a playoff game and work harder in practice."
Bagdad (9-0, 5-0 1A West) has not lost a game since the 2015 state semifinals. The Sultans went 11-0 in 2016 en route to winning the 1A state title.
UP NEXT
Both teams will qualify for the 1A state playoffs, which start Saturday, Oct. 21. The question is which seeds the squads will carry into the 12-team tournament bracket. The top four seeds earn a first-round bye.
Bagdad will likely stay at No. 2 in the rankings, receive a first-round bye and play host to a quarterfinal Oct. 28.
Mayer (8-1, 4-1 1A West) will either stay at No. 4 and earn the bye or drop down slightly and host a first-round game next weekend.
The AIA will announce the 1A state playoff bracket today on azpreps365.com.
FALLEN TEAMMATE
After the game, Bagdad's players presented Mayer's Colquitt family with a check and a card to honor the memory Cody Colquitt, who died in a single-vehicle accident in September. Mills told his players afterward to remember that there are bigger things in life than football. The message resonated with all involved.
Follow Doug Cook on Twitter @dougout_dc. Reach him at 928-445-3333 ext. 2039, or via email at dcook@prescottaz.com.
More like this story
SUBMIT FEEDBACK
Click Below to: