Clarkdale man pleads guilty to dragging dog behind truck
HALIE CHAVEZ, For the Courier
Originally Published: October 13, 2017 6 a.m.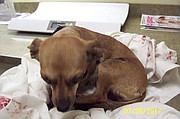 COTTONWOOD — Destry McClure, Clarkdale, pleaded guilty Tuesday to dragging his 4-year-old chihuahua, Leia, behind his truck for half a mile. The plea was entered four days before McClure's 53rd birthday.
On July 8 around 5:15 p.m., officers were called to the area of North 10th Street and Main Street on a citizen report of a man dragging a dog tied to the back of a truck.
McClure had been drinking alcoholic beverages at Riverfront Park in Cottonwood. He then left in his vehicle with Leia's leash still attached, according to court records.
McClure told officers he had forgotten about the dog. In court, defense attorney David Gordon said this was due to inebriation.
"I think it was a perfect storm of bad choices," Gordon told Magistrate Douglas LaSota at Cottonwood Municipal Court.
"Probably the most heart-breaking part of this is when I watched the video after the officer stopped my client and [he] realized he had drug his dog. That was his pet. He was heartbroken, he was crying … He was devastated by that," Gordon said.
Leia survived with road-rash injuries and was taken to Air Park Animal Hospital in Cottonwood. McClure was tested to have a blood-alcohol content of .208, two and half times over the legal limit.
"I don't think it was intentional," said Cottonwood city prosecutor Mik Jordahl.
McClure pleaded guilty to one count of animal cruelty and one count of extreme DUI, both misdemeanors. The nine days in jail for each charge will run concurrently, according to the plea agreement.
McClure has already served five days in jail, leaving him with four days left to serve. He will also be required to pay $1,825 to Air Park Hospital in restitution for veterinarian bills and a fine of $2,743 for the extreme DUI.
If McClure violates his probation, he may face a full 30 days of jail time.
"Driving under the influence is something we take very seriously in the Verde Valley, both law enforcement and prosecutors — there's pretty much zero tolerance," said Jordahl.
"It's extremely dangerous to human beings, property and even pets that we love," Jordahl said.
Judge LaSota urged McClure to attend Alcoholics Anonymous meetings after his 18-month unsupervised probation ends.
"This time it was a dog. Next time you could cross that center line and kill someone," said LaSota.
Leia is now owned by Joanna Caujolle. Under the plea deal, McClure can visit Leia under Caujolle's supervision, if she so permits.
Update: Leia has completely recovered from the road rash. Caujolle knew McClure and Leia because he previously rented a room from her. Caujolle said she had no intentions of allowing McClure to visit with Leia. "Absolutely not, he is not supposed to be near me. Prosecution told me that he is not to be alone with her ever," said Caujolle. "He was actually good to her," Caujolle said of the way she had seen McClure treat the dog.
Halie Chavez is a reporter for the The Verde Independent, a sister newspaper of The Daily Courier.
More like this story
SUBMIT FEEDBACK
Click Below to: