Did your school make the grade? Arizona school letter grades released
Don't judge achievement, experience on one score, education advocates say

By
Nanci Hutson
|
HutsonNanci
Originally Published: October 10, 2017 6:04 a.m.
Updated as of Tuesday, October 10, 2017 11:06 AM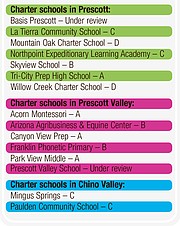 State and local public education advocates and leaders hope Arizona's latest A-F grade system does not lead school staff and parents to judge student achievement and educational experience on one score.
The state Board of Education released the letter grades on Monday; districts and charter schools were delivered results under an embargo more than a week ago. Some intend to appeal.
The official release date coincided with fall breaks for public schools, and therefore, some officials were unable to be reached for comment.
Outlying schools (A-F letter scores for schools both K-8 and 9-12):
Ash Fork Elementary – Not rated
Ash Fork High – Not rated
Bagdad Elementary – A
Bagdad Middle – Under Review
Bagdad High – Under Review
Seligman High – F
Skull Valley elementary – Not rated
Kirkland Elementary – C
Yarnell Elementary – Under Review.
Schools listed under review have filed an appeal of their score, or the school has a non-typical school configuration.
Not rated are schools that were not given a score based on insufficient data, or who do not have enough full academic year students of 20 or more.
The A-F listing for all schools across the state can be found through this Arizona Board of Education website link: https://azsbe.az.gov/f-school-letter-grades
The last time the state issued letter grades was in 2014. New criteria was established through the state Board of Education that included 17 public hearings. Beyond AZMerit test results, the letter scores incorporated proficiency and growth in language arts and math, graduation rates, as well as college-to-career readiness programs.
"It's important to remember that Arizona's new A-F letter grades are just one measure of how each school is doing," said Expect More Arizona official Jennifer Hernandez.
MEASURING SUCCESS
To determine if a school is successful requires an in-depth look at a variety of factors such as whether or not the school has a safe and inclusive environment; hires high caliber faculty; involves parents and prepares students for success after graduation, said Hernandez, the advocacy organizations' northern Arizona community engagement manager.
Humboldt Unified School District Superintendent Dan Streeter said this measure of accountability falls short because it minimizes "the impact of what school is and what school success is."
Streeter and fellow superintendents said they appreciate the state Board of Education tackling an "impossible task," but do not believe it is the best way to help promote stronger student achievement and quality schools.
Prescott Unified Schools Superintendent Joe Howard said "categorizing the experience of hundreds, or thousands, of kids into a single letter is the opposite of our mission of 'Every Child, Every Day.'
"Labeling schools is a political tool," Howard said.
State Rep. David Stringer in Prescott said he endorses the notion of a report card to evaluate schools. He, though, does not want anyone to have a knee-jerk reaction to the scores.
"It's a brand new system so we need to be careful not to jump to conclusions based on one year's tests scores," he said. "I welcome the idea of grades, and think they should be embraced by families as useful information, but we need to be careful not to over-interpret the first-year grades."
Arizona Charter School Association President Eileen Sigmund said these grades are a "starting point" for families who are considering "if a school is the right choice for their child."
"This is not a static accountability model," Sigmund said.
For these scores to adequately reflect the "hard work our educators do every day," Sigmund said this measure needs to "grow and evolve."
UP AND DOWN SIDES
Mayer Superintendent Dean Slaga was pleased with the results for his schools as they show the efforts they have made to improve over the last time the state was keeping score. Mayer High School earned a C; it previously was listed as a failing school. The elementary school earned a B.
The new scoring system gives credence to the efforts Mayer High School's leaders have made for the benefit of all its students, particularly with its renewed focus on career/college readiness programs, Slaga said.
The downside of this grading process is no matter what formula state education leaders use it is "going to hurt or help some schools," Slaga said.
Economically disadvantaged schools tend to have lower test scores, and therefore, many have received some of the lower report card scores.
Streeter said he is confident his community is "sophisticated" enough to keep these scores in perspective. To that end, he said the district has drafted its own report card to reflect things that the state's report card does not consider, including experiential learning, the number of highly qualified teachers and effectiveness surveys.
As a "reflective profession," Howard said he expects his team of administrators to use these scores as data able to aid in making instructional choices to propel forward every student in every school. But it is just one piece of the puzzle.
"Labels don't' measure the miracles that happen in the classroom every day," Howard said in both an interview and in a letter to his PUSD family. "I believe that our community knows about the positive impact that you are making in our children's lives. I look forward to watching us all react, as we have done so many times over the years, and respond to this new system with great success."
More like this story
SUBMIT FEEDBACK
Click Below to: