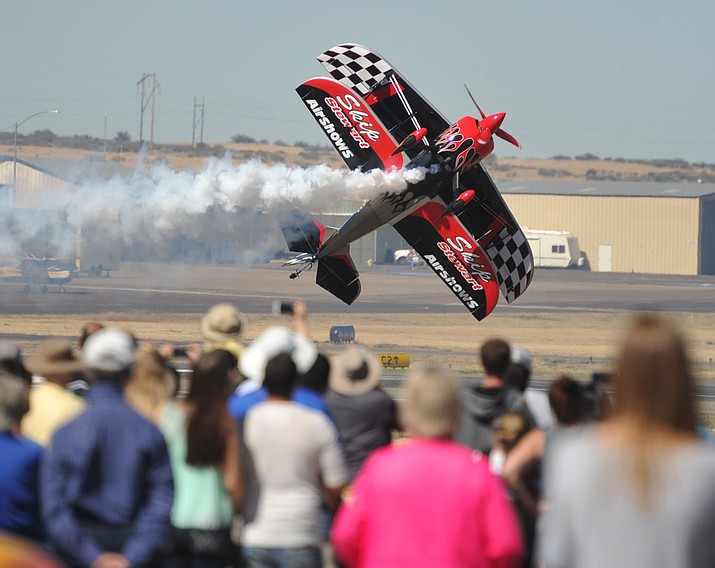 Photo by Les Stukenberg.
Originally Published: October 9, 2017 6 a.m.
Photo Gallery
2017 Wings Out West Airshow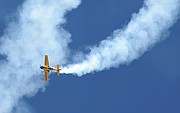 Flying high above Prescott Municipal Airport at 6,000 feet, Kent Pietsch said there's only one thing going through his mind: he's having fun.
One of the pilots performing aeronautical demonstrations at the Wings Out West Airshow on Saturday, Oct. 7, Pietsch said he's been performing in airshows since 1967. He did two routines, one of which was a comedy routine where he goes by the name of Chuck Dramamine, and the other where he landed his plane without the use of an engine.
"I enjoy showing people an airplane doesn't need an engine to fly. You can actually see that the wing is what makes the airplane fly," he said. During the comedy stunt, Pietsch drops the aileron. "I want to show people that you can lose major flight control … and still fly the plane."
When he was a captain for a commercial airline, when people were nervous about flying, Pietsch said he'd walk them up to the jetway and tell them about his act and how he can land an A320 anywhere as long as he has a place to put it down, which is something that Captain Chelsey "Sully" Sullenberger proved when he landed US Airways Flight 1549 in the Hudson River. He even has a stunt where he lands an airplane on top of a truck, he said.
The airshow was cohosted by Embry-Riddle Aeronautical University and the City of Prescott and featured the aerial demonstrations, static displays, an aeronautical tech fair and a regional fly-in.
It was Daniel Knight's fifth time coming to the airshow and this year, he said he brought his father out to see it.
"It's the coolest thing to see for the year from the school," Knight said. "It's always worth coming out for."
Ami Hyatt was also out watching the demonstrations and said that she was enjoying what the airshow had to offer. Pietsch's comedy routine was the newest part of the show and it was really cool, Hyatt said.
"It different from the past two air shows that I've been to," she said.