Half a century of doing business in Prescott
Owner of Lamb Chevrolet Cadillac recalls history, looks to future

By
Max Efrein
|
mefrein
Originally Published: October 8, 2017 6:03 a.m.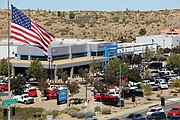 Ted Lamb, owner of Lamb Auto Sales, has reached a milestone few owners of any business achieve: 50 years at the helm.

As he was handed an award in September from a General Motors representative recognizing this fact, words were exchanged.
"He said 'you're the first 50-year dealer I've ever talked to,'" Lamb related.

Lamb, 74, took over partial ownership of Lamb Chevrolet Cadillac in 1967 when he was just 24 years old.
"When I first started going to dealer meetings, I was the youngest guy in the room," he said. "Now I'm the oldest guy in the room."
His father had bought the company in 1957 along with a gentleman named Neil Hurt.
Hurt was the business's dealer until Lamb bought him out. Five years later, Lamb had completely bought his father's half of the business as well.

The dealership was located along Gail Gardner Way (formerly Fairgrounds Avenue) in Prescott.

"We were a destination dealership," Lamb said. "People had to be coming to you. They didn't drive by."
In the 1980s, Lamb added a Subaru dealership and then a Nissan dealership.
That remained the situation until 2003, when Lamb moved his Chevrolet Cadillac dealership up to its current location at the intersection of Highway 69 and Prescott Lakes Parkway in Prescott. Lamb Nissan followed in 2006. Subaru and Lamb parted ways during this transition.
Over the many years, Lamb has held onto his love of the car business, and can barely fathom how much things have changed in the industry. Simply knowing that self-driving cars are already in use throughout the country and will likely dominate the market one day blows his mind.

"It's happening so quick," Lamb said. "I considered the flying car because I used to watch the Jetsons, but self-driving, no way."
Reaching a point in his life where it's time to start considering the future of the company without him in the picture, Lamb is currently in the process of selling 15 percent of the business to his General Manager, Ed Walsh.
"We hope to get that done before the end of the year," Lamb said.
Within the next 10 years, he anticipates Walsh will absorb most if not all of the business.
"We'll see how that evolves," Lamb said.
Walsh said he's comfortable with the idea.
"I grew up in the car business," Walsh said. "Eventually you have to pick where your hometown's going to be, and mine's Prescott. This is where my family has put roots down and we're not going anywhere."
Follow Max Efrein on Twitter @mefrein, email him at mefrein@prescottaz.com or call him at 928-445-3333 ext. 1105.
More like this story
SUBMIT FEEDBACK
Click Below to: