New film fights bullying; provokes thoughts on prevention, intervention and consequences

By
Nanci Hutson
|
HutsonNanci
Originally Published: October 7, 2017 6:02 a.m.
Viewer Alert: The content of this film trailer may be disturbing to some viewers. Viewer discretion is advised.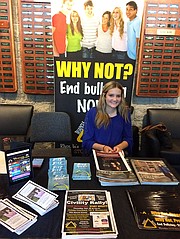 What's your verdict?
A teenage girl hangs herself in her bedroom after constant taunting and cyberbullying by other girls.
A teenage boy shoots a classmate after he suffers extended bullying by the same group of peers.
A lawyer opts to pursue a criminal case against the bullies she blames for these tragic deaths.
On Thursday night, Oct. 5, a group of Yavapai College students and other community leaders and residents attended a red carpet premiere of the poignant film, "Bully Fighters." The 30-minute production ends with jurors debating the verdict, with the audience left to figure out their answer.
The local audience appeared to be as conflicted about a verdict as the jurors.
Some suggested imposing criminal sentences on these teens was too harsh, preferring a more compassionate approach. Others endorsed serious consequences when bullying proves fatal.
A panel of local experts, including law enforcement, juvenile detention, a high school student, an anti-bullying foundation advocate and the film's writer, director, and producer/actress, all agreed on a guilty verdict. Their argument was that it is important for people to know there are consequences to actions, but favored sentences that weren't just a punishment but more a redemptive wake-up call.
Film writer/director/producer Jupiter Makins said she hopes the film provokes legal changes to better protect young people's civil rights. She and other panel members said children should not be abused when they go to school; to feel so powerless they opt to take their own lives or that of someone else.
Anti-bullying/abuse related events:
Oct. 19: A MATforce "Lunch and Learn" event from 11:30 a.m. to 1 p.m. titled "Beyond the Bystander Effect: 50 years after Kitty Genovese." Yavapai College Detective James Tobin will provide a case study of the 1964 stabbing murder of Kitty Genovese, 28.
Some 38 people heard her screams or witnessed the attack, but no one called the police.
Tobin will talk about how community fights against violence in the community.
Oct. 26: Rhonda's Stop Bullying Foundation has organized a "Civility Rally" at the Holiday Courtyard on South Montezuma Street from 6 p.m. to 8 p.m. The event will include a series of speakers, live music, and a flash mob dance. For more information, visit the website: www.RhondaStopBullying.org or call 928-515-9996.
"This film took my breath away," declared panelist Bobby Kipper, a veteran community police officer and founder of the National Center for the Prevention of Community Violence. "This movie begs for all of us to take a stand."
Makins said she does not want to see kids carted off to jail. What she does want to see is awareness that bullying is a repetitive pattern of abuse that can lead to tragic consequences, such as suicide and other forms of violence. She wants those who bully, and often they, too, are victims, to know it is societally unacceptable to harm people in this way, and if they behave that way they will be held accountable.
"We believe in finding solutions; prevention and interventions, but also the power of consequences," Kipper said.
Even incarcerated teenagers who saw this film agreed that the bullies were in the wrong and needed to be held accountable for the aftermath, said Yavapai County Juvenile Probation Director Scott Mabery.
One Chino Valley high school student, a bullying victim, said this area is not immune to the suffering that comes from such abuse, including teen suicides, and feels there needs to be consequences to those who abuse others. She said she remembers the sadness she felt in being repeatedly told she was worthless.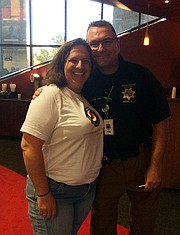 Rhonda Orr, the founder of Rhonda's Stop Bullying Foundation, said her non-profit organization's focus is eradicating bullying by promoting the values of civility from the earliest ages forward: courtesy, consideration and caring. She said she also wants to promote the notion that no one is at fault for becoming a victim but they have a choice whether or not to remain one. She promotes the idea with teens to define themselves rather than allow others to define them.
Prescott High School Principal Stephanie Hillig said social media has enabled bullying to become more widespread, and often anonymous, and it poses challenges for school administrators to track down. The high school does have a Badger tip line — texting PHSTIP and your info or concern to 37607 — that allows people to anonymously report incidents. She was also clear that schools cannot be the only ones working to curb bullying. It takes a village, she suggested.
The film's actress/producer Patricia McKenzie said she believes in the power of this film, and looks forward to how the message reverberates in all those who see it.
"We want to change communities for the better," she concluded.
More like this story
SUBMIT FEEDBACK
Click Below to: