Originally Published: October 7, 2017 6:03 a.m.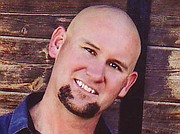 Did you know Robert Limon?
Robert M. Limon, born on Aug. 11, 1976, was 38 when he died in 2014. He spent much of his youth growing up in Prescott, Arizona, where he attended Abia Judd Elementary School and Granite Mountain Junior High before eventually graduating from River Valley High School in Mojave Valley, Arizona.
After graduating high school, Rob — as he was known — moved with his mother back to Prescott where he met Sabrina and they married. They moved to Helendale, California, where Rob worked with Burlington/Santa Fe Railroad (BNSF).
Rob and Sabrina had two children — a boy and a girl — who were 11 and 8, respectively, when he died.
Information from Mr. Limon's obituary published in The Daily Courier, Aug. 31, 2014.
A Kern County, California, jury on Thursday, Oct. 5, found Sabrina Limon guilty of first-degree murder in the death of her husband, Robert, who are both former residents of Prescott, Arizona.
The verdict concluded a three-week trial that riveted Bakersfield — and attracted attention nationwide — with its lurid details of swinging couples, twisted interpretations of Christianity and poisoned pudding.
The jury, which deliberated for roughly five hours, also found Limon guilty of solicitation of murder, conspiracy to commit murder and accessory to murder. She was found not guilty of attempted murder and of mingling harmful substances into food or drink, a charge that referred to a lunchpail serving of allegedly poisoned banana pudding.
Limon, 37, sat facing away from the audience, sniffling as the verdicts were read. She grabbed a tissue and wiped her nose. She faces 25 years to life in prison at her Nov. 3 sentencing. 
Upon hearing the guilty verdict for murder, Limon's sister, Julie Cordova, slumped forward in her seat, her body shaking as a woman seated to her right cried and placed a hand on Cordova's back.
Afterward, Limon's attorney, Richard Terry, said he was disappointed, frustrated and angry. "It's hard to fathom how they found her not guilty of attempted murder but involved with the murder," he said. 
According to prosecutors, Limon conspired with her lover, former Redlands firefighter Jonathan Hearn, in the killing of her husband so they could be together and eventually marry. 
The jury found true allegations that Limon told Hearn how to get to her husband's Tehachapi workplace and told him what hours he was working the day of the killing. It also found true that Limon used a burner phone to communicate with Hearn in an effort to avoid detection by law enforcement. 
Terry, however, said Hearn, 27, spun a tale implicating Limon to avoid a life sentence for shooting her husband to death on Aug. 17, 2014. He argued throughout the trial that Hearn's testimony — the only direct evidence against his client — could not be trusted.
"Hearn saved his own butt," Terry said.
Prosecutor Eric Smith said the jury returned "a just result," and said he believed the evidence supported its findings. He declined to give an opinion on the testimony of Hearn and Limon.
Hearn agreed to testify at the trial in exchange for a prison term of 25 years and four months. Smith said he doesn't expect the terms of Hearn's plea deal to change at his upcoming sentencing.
Outside the courthouse, Robert Limon's sister, Chris Wilson, said she is happy the trial is over.
"I'm excited. I'm relieved. It's just been a long three years, and it's time to put this behind us and move on," she said. "It'll never bring my brother back, but it will bring justice, and that's what we've been looking for for three years."
Wilson said it was tough for her and the rest of the family to hear the testimony and the evidence that was presented during the trial.
"When it's someone you've loved your whole life, and you get to listen to people planning what they're going to do – what they've done – to end (Robert's) life, it's very hard to listen to," she said.
Lydia Marrero, another sister of Robert Limon, said that while the trial was tough, she was glad that the truth about her brother's death was revealed.
"All we wanted was to seek the truth," she said. "Unfortunately, the outcome is what it is."
Now that the trial has reached its end, Marrero said, the Limon family, and perhaps others, can finally get full closure.
"I just hope that (Sabrina's) family finds some kind of closure as well, knowing the damage and the impact that influenced everybody's lives," she said.
Testimony
During three days of testimony, Sabrina Limon admitted to the affair but said she knew nothing of Hearn's plans to kill her husband. She testified she and her husband decided to engage in sex acts with other couples five years after the birth of her first child. They partied a lot and both of them became overly fixated on sex, she said.
When she met Hearn while working at a Costco in 2012, she said, she was flattered by the younger man's attentions. They eventually exchanged numbers, and a few months later became romantically involved behind her husband's back.
They began fantasizing about having a future together, Sabrina Limon testified. Still, she denied ever planning Robert Limon's death, or coming to a decision to leave him.  
Bad bananas
Hearn testified he and Limon had long plotted her husband's death, and had made a prior attempt on his life months before the killing.
He said they agreed to poison Robert Limon by placing arsenic trioxide in banana pudding and sending it with him to work. Hearn testified he ordered the poison online, mixed it into the pudding then gave it to Sabrina Limon to give to her husband.
Later that day, however, Hearn said, he and Sabrina Limon became concerned about getting caught. He said she called her husband and told him to throw the pudding out because the bananas had gone bad. 
In addition to Hearn's testimony, the prosecution presented dozens of text messages and wiretapped phone calls between Hearn and Sabrina Limon for the jury. In them, the couple professes their love for each other and discusses details of the investigation — including what she should tell the lead investigator.
They make repeated references to God's purpose in their lives and pray together. Hearn testified he found parallels between his and Limon's actions and the Biblical story of King David, who slept with one of his soldier's wives then had the husband killed. 
"He made a lot of big mistakes and was someone who committed adultery … and went on to kill the guy," Hearn told Sabrina Limon in a November 2014 phone call. "He went out of his way to cover up his sin."
Despite his "sin," Hearn told Sabrina Limon, "(David) was one of God's favorite people ever, and it has to do with God's understanding."
Hearn acknowledged that, unlike David, he and Sabrina Limon failed to apologize and repent their wrongdoings. But he embraced the psalm written by David nonetheless.
Divorce easier
At Sabrina Limon's preliminary hearing in February, several members of the audience clapped and shouted, but there were no outbursts Thursday.
Before the verdicts were read, Judge John R. Brownlee instructed the audience to sit quietly and calmly throughout the proceedings. Six deputies were stationed inside the courtroom. 
Marrero said she hopes that the case serves as a lesson to married couples.
"You need to stay faithful to your spouse and communicate," she said. "If you can't get along, then get a divorce, please."
"Divorce is easier," Wilson said. "It may be ugly. It may be hard for the kids, but it beats where we are today."
Jason Kotowski, Joseph Luiz and Harold Pierce are reporters for The Bakersfield Californian. Reprinted with permission.
Click here to view The Bakersfield Californian's original story.