Where's all that folk music coming from?

Originally Published: October 5, 2017 8:38 p.m.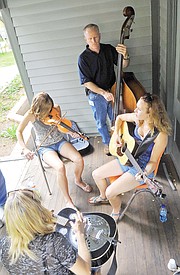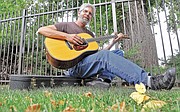 This weekend, 90 musicians will converge at Sharlot Hall Museum for the longest running folk music festival in Arizona.
Now in its 39th year, Sharlot Hall Museum's Folk Music Festival has the same number of performers as it did last year because there's only four venues and only so much time to give them an opportunity to have a good time, said Museum Media and Marketing Manager Ken Leja.
"There's only about 90 opportunities. We have roughly about 220 to 240 different music acts that contact us to participate," Leja said. "We have some returning musicians and we try to have some new musicians."
There are performers all weekend long on both Saturday and Sunday, Oct. 7-8, including Mexican Beaded Lizard, JC & Laney, Greg LaCosse, Patricia Silverberg & Patty Arnold, Carter Junction, Thunder and Lightnin' and Other Noise from up the Holler, and Trish Nelson.
Not only do the musicians perform, but they also put on a lot of workshops where they talk about how they do their musical style, where they got their start and what they learn from each other, Leja said, commenting the workshops also allow for the audience to enjoy participating in a conversation with the professionals. Last year, he said he had a chance to sit in on a songwriting workshop.
Held at the museum, 415 W. Gurley St., admission to the festival is $10 for the day, $15 for a special two-day pass for both Saturday and Sunday, $8 for museum members and free for children 17 and younger.
One challenge to putting the festival on is providing enough of an opportunity for the musicians to showcase what they do, said Leja.
"One of the most exciting things that I hear most often for them is that they not only have a chance to perform and share their music, but to share their love and passion for music," he said, noting that often, a young musician will sit down with a group or ensemble that aren't officially performing at that moment and jamming with them. "That's one of the real treats and benefits, it's finding all of those opportunities for them to be able to do it … I wish that we had 40 acres because we've got so that much of a demand for that kind of an activity."
New this year is the children's area, which will have a wall of sound, including a plastic pipe xylophone that the kids can hit with a flip-flop, Leja said. There are also large pipes of different lengths that they can hit with whatever they want and make music, he said. It gives the kids a chance to make music even if all they're doing is banging around and making noise, he said, remarking he hopes it inspires them to consider music.
There is literally something for everyone at the Folk Music Festival, whether it's just listening to a solo artist, enjoying the harmony and musicality of different groups or learning and interacting in a workshop. Leja said. Even if all the musicians are doing is sitting around and jamming, it shows the passion that they have for music, he said.
"The audience picks up on that, just performing for the love of music. That's what you discover by watching these people perform and these performers interact."
For more information about Sharlot Hall Museum's 39th annual Folk Music Festival, visit www.sharlot.org.
More like this story
SUBMIT FEEDBACK
Click Below to: