Sky Daddy pays tribute to Eric Clapton
Show's music covers guitar great's entire career

Originally Published: October 5, 2017 8:20 p.m.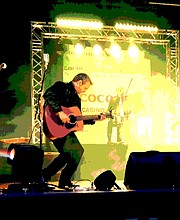 Sky Daddy is getting ready to perform his fifth Eric Clapton tribute show next week but this show is going to be different than the others he's done, he said.
Sky Conwell (Sky Daddy) said he's been a Clapton fan ever since he was a kid.
"I grew up on country music. I kind of discovered the blues and when I heard Eric Clapton, it was just something in me," he said. "I've been studying him and his music for a long, long time."
The show is going to be at the Palace Restaurant & Saloon on Monday, Oct. 9. Tickets are $35 and it pays for dinner and a show. It's guaranteed to sell out, Conwell said.
In wanting to do an intimate and acoustic show, picking which songs to do was really important, Conwell said. The show touches on Clapton's entire career, even including songs from his time in Blind Faith, Cream and the Yardbirds, he said. The set-list changes every year too, so if someone went last year or two years ago, it'll have different songs, Conwell said.
Clapton was a big fan of the blues too and as such, Conwell wanted the show to have a Robert Johnson song but had to arrange it to fit acoustically but at the same time, get the feel of the song, Conwell said. He's going to do Crossroad, he said.
Conwell said he likes to have another player for support on rhythm guitar and this year, that's Chuck Hall. It's the first time Hall has been a part of the tribute show, he said.
A fan of Hall's since he was in high school, Conwell said he's nervous because Hall is an idol of his. The two have been friends since Hall came to Prescott, Conwell said.
Further, Rhonda Conwell, Sky's wife, will play bass on a few songs. The three of them will perform "Cocaine" together, he said.
There's one song that's a part of the set called "Shine" which he wrote, Conwell said. In writing it, the song just came out naturally, he said.
"I didn't put any thought into it. It started with a little blues riff," Conwell said. "It sounds like something Clapton would kind of write, so I wrote the whole song around this little blues riff."
"Shine" is unlike anything he's ever written in the past, usually writing country or rockabilly songs, he said.
Palace Restaurant & Saloon management says it's one of the most popular shows, Conwell related. Dinner reservations start at 5:30 and the show starts at 7:30 p.m.
Clapton has been such an influence and to be able to pay tribute to him is an honor, Conwell said.
To purchase tickets for the show, call the Palace Restaurant & Saloon at 928-541-1996.
Related Stories
More like this story
SUBMIT FEEDBACK
Click Below to: