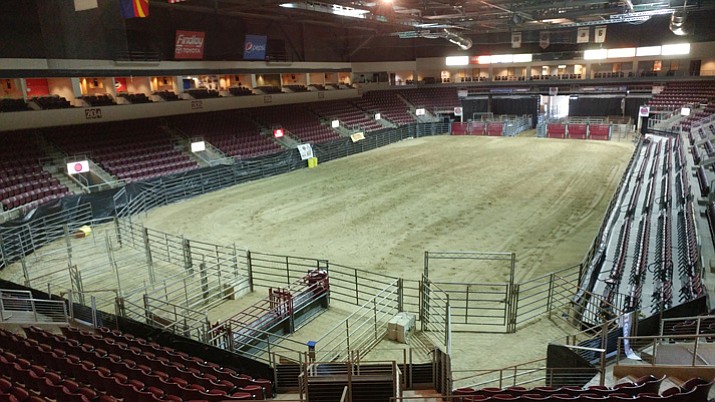 Originally Published: October 4, 2017 11:40 p.m.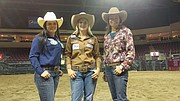 TICKETS
For more information about Turquoise Circuit Finals ticket prices, call 928-583-6098 or send an email to: boxoffice@prescot.... Organizers encourage fans to buy tickets in advance to avoid delays, either through ticketmaster.com or by calling 800-745-3000. A $2.50 per ticket service fee applies to online and phone orders. Parking fees are included in the ticket prices.
The Prescott Valley Event Center has been transformed from a basketball venue to a rodeo arena this week, as the PRCA Turquoise Circuit Finals makes its inaugural appearance today and concludes this weekend.
The three-day competition relocated from an outdoor complex in Las Cruces, New Mexico, to the cooler indoor climate within the past year. The Turquoise Circuit Finals features 100-120 of the highest-ranked contestants from Arizona- and New Mexico-based rodeos during the 2017 season. They are vying for berths into the National Circuit Finals next year in Kissimmee, Florida.
"My guess is we'll either hopefully sell out, or come close to it, Friday and Saturday," PVEC general manager Scott Norton said. "The buzz is out there. People are talking about it, and we'll see. It basically becomes a rodeo city. For the last 30 days we've been cranking on everything."
This past weekend, crews with Asphalt Paving & Supply and Fain Signature Group moved more than 100 dump-truck loads of clay and specialized sand onto the arena's 100-foot-wide by 230-foot-long floor, where the NBA Gatorade League Northern Arizona Suns play their home games.
Each night of the Turquoise Circuit Finals, events on the 2-foot-deep dirt surface on a concrete base include bareback bronc riding, bull riding, tie-down roping, barrel racing, saddle-bronc riding, steer wrestling and team roping. Steer ropers will compete off-site at Tom Cox's arena near Poland Junction Saturday morning, Turquoise Circuit president Charlie Lewis said, because the PVEC floor isn't wide enough for their event.
Jerry Honeycutt's Honeycutt Rodeo Inc. of Alamosa, Colorado, one of the circuit finals' stock contractors, installed temporary chutes in the arena.
"It's coming together really well – it's really running pretty smooth," Lewis said. "The team roping will probably be the most competitive. We have a few teams going to the National Finals. The barrel race will be really competitive."
Barrel racer Sarah Kieckhefer, who lives on a ranch between Prescott and Seligman, is currently ranked second in the Turquoise Circuit standings. Jordan Bassett of Dewey sits in third. Both will ride here among a field of 12 competitors who are bunched closely together in the standings.
On Saturday, the circuit champions (year-end standings champs) and circuit finals champions will be crowned. The rider who wins the Average Championship Round – the best average score after three runs – wins the finals. The two men or women who win the circuit and/or circuit finals awards in each event advance to Kissimmee.
It is possible for one competitor to capture both the circuit and circuit finals titles, for which Kieckhefer and Bassett are gunning.
Kieckhefer and her fellow barrel racers practiced in PVEC Wednesday afternoon to prepare for riding their horses in a smaller, tighter venue that reduces reaction time.
"We don't have many coliseums like this [PVEC] in Arizona, so most of the arenas we run in are great, big, wide-open arenas," she said. "For most of us, we're all kind of on an even playing field because not many of us get to practice in this sort of situation. This weekend I'm just going to try and go make three good runs and see where I end up."
Bassett said she will ride a younger horse named JW French Manicure, or V, this weekend. It isn't her horse, but it tries "really hard" and likes "a littler building." This is Bassett's fifth year qualifying for the circuit finals. But she hasn't reached the national circuit finals, which remains her "ultimate goal."
"There's going to be girls that their horses hate this itty-bitty arena, and there's going to be horses that love it," Bassett said. "It's kinda who's going to be on the horse that wants to be in this kind of setup. Everybody's factor is getting through three go-arounds without hitting a barrel."
CONTESTANTS
At least three past world champions will compete in the Turquoise Circuit Finals.
They include Women's Professional Rodeo Association (WPRA) barrel racer Sherry Cervi of Marana, who's currently ranked 16th in the world standings and 11th in the Turquoise Circuit standings; team-roping header Aaron Tsinigine of Tuba City, who's fourth in the circuit standings, and saddle-bronc rider Taos Muncy of Corona, New Mexico, who's ranked No. 1 in the circuit.
Locally, team-roping heeler Tom Bill Johnson of Kirkland, team-roping header Trey Blackmore of Hillside, steer roper Chance Kelton of Mayer and steer roper Rick Kieckhefer, Sarah's husband, are others to watch.
First-place finishers in each event at the end of the three days in the Turquoise Circuit Finals receive automatic qualifications to the National Circuit Finals, which has a total purse of $1 million. No. 1-ranked competitors in the final circuit standings also advance to nationals.
The Turquoise Circuit Finals' total purse is $150,000, split evenly among eight events. Added money, compiled from contestants' entry fees and circuit/PRCA money, is included in the pot. Money claimed here counts toward qualifying for the National Finals Rodeo (NFR), pro rodeo's Super Bowl where world titles are won in Las Vegas.
PVEC has a two-year deal to host the circuit finals, through 2018. Some 15 vendors, including concessionaires, will set up booths around the concourse Thursday through Saturday.
"The parties are certainly looking to make this a long-term relationship," Norton said. "With anything, you want to see how the first couple years go. But we think it will be a success."
Follow Doug Cook on Twitter @dougout_dc. Reach him at 928-445-3333 ext. 2039, or via email at dcook@prescottaz.com.