City, businesses step up to keep money in the community
Chamber starts its 'Shop Prescott: Start Here' campaign
By
Max Efrein
|
mefrein
Originally Published: October 4, 2017 6:01 a.m.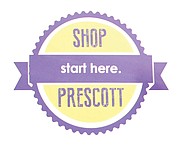 The City of Prescott and the Prescott Chamber of Commerce have officially launched a new year-round campaign designed to make citizens aware of the benefits of buying from local brick and mortar businesses.
Titled "Shop Prescott: Start Here," the citywide initiative started Tuesday, Oct. 3, and will be ongoing moving forward.
"When we're making choices about Christmas holiday gifts or shopping anytime throughout the year, we really want this campaign to help our citizens and visitors to shop Prescott and start here," said John Heiney, the Community Outreach Manger with the City of Prescott. "Start here on your search. Look around and see what is available and experience the great businesses."
A driving point of the campaign is that for every dollar spent within Prescott, that dollar recirculates several times throughout the community before working its way into other markets. This impacts sales revenue for local businesses and sales tax for the City of Prescott.
"The fact is that when you go online and you purchase something on something like Amazon, that dollar leaves the community immediately and has no lasting economic impact at all," said Sanford Cohen, chairman of the Chamber board.
To promote the effort, the city and the chamber will begin actively reminding the community to shop locally with signs and banners, window displays in local businesses, press releases, website and social media postings, and having speakers go out to service clubs, schools, business organization and meetings to talk about it.
They have also purchased 5,000 stickers that say "Shop Prescott: Start Here" and intend to plaster them all over the city.
"You will not be able to escape the message Shop Prescott: Start Here, nor should you," Cohen said. "We're taking a stand now, and we're saying that we're all in this together as neighbors, as coworkers, as employers, and as citizens. It's our duty to ensure the future of Prescott and its prosperity by making sure that every dollar we have available is invested here in our community."
Coming soon will be a website called ShopPrescott.net where more information about the campaign will be available.
For more immediate information, call the Prescott Chamber of Commerce at 928-445-2000 or the City of Prescott Communications Office at 928-777-1362.
More like this story
SUBMIT FEEDBACK
Click Below to: