JuCo Soccer: Roughriders tie Aztecs, again
Yavapai, Pima stay tied atop ACCAC standings with OT stalemate
By
Doug Cook
|
dougout_dc
Originally Published: October 3, 2017 10:20 p.m.
Photo Gallery
YC vs Pima Soccer 100317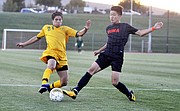 The last time NJCAA men's soccer powers Yavapai College and Pima Community College faced off in early September, they needed two overtimes to decide the outcome of the match, which ended in a 1-1 tie.
In the ACCAC frontrunners' rematch Tuesday night, the No. 4-ranked Roughriders and No. 7-ranked Aztecs again required 110 minutes. And once more, the showdown resulted in a double-overtime tie, albeit scoreless, at Mountain Valley Park Amphitheater in Prescott Valley.
NJCAA seven-time national champion Yavapai has grown accustomed to serious challenges the past four years.
"When we play big teams like this, they usually come with a hard defensive mentality like the whole game, even if we go into overtime," Yavapai defender Ricardo Nunez-Arellano said. "They just don't want to be beat by Yavapai right now, because the name speaks for itself, all of the history. But we should be able to at least finish one goal in an important game like this."
Yavapai and Pima remained knotted in first place in the conference with identical 10-1-3 records and 33 points apiece. The Roughriders carried a four-game winning streak into Tuesday, while the Aztecs had won three straight. Defense on both ends was dominant.
"The transition on Yavapai – it's really hard to keep up, but we were able to handle it," Pima captain AJ Valenzuela said. "The defense on both sides was really well. The attacking forward – it was hard for him to penetrate, but they got in. Same with us. Unluckily we couldn't get any goals."
Yavapai freshman goalkeeper Tyler Trump was the clear star versus Pima, going all 110 minutes with 10 superb saves. Diving and leaping for balls, Trump kept the match scoreless to preserve the tie in the waning moments.
"Tyler was the man of the match," Roughriders coach Mike Pantalione said. "Ten quality saves, and he came up big numerous times – high, low; left, right."
Nunez-Arellano said in the second half and in the second OT, Trump "had two amazing saves that I don't think any other keeper in this league" would've been able to make.
"The full year before I came here, all I was doing was playing soccer – dedicating my life to the sport," said Trump of Bountiful, Utah. "The way I train, and the way I've been told to train from my coaches, is to train away and overthink all the things you do so that in a game it just comes natural. And that's exactly what happened [Tuesday]."
The Roughriders played without injured standout forward Alexander Guadron, whose 33 points are second-most on the squad to William Baynham (41 points). Guadron and Baynham are tied for the team lead in goals with 16 apiece. Pantalione wasn't sure if Guadron would return this week.
"It's a big factor," Nunez-Arellano said. "It's a guy that was our top scorer before his injury."
Nevertheless, Yavapai attacker Jose Perez Flores said the offense had opportunities against Pima, but didn't capitalize.
"We were just unfortunate," he added.
Just past the mid-way point of the 2017 season, there's a four-team race to decide the conference's regular-season champ. No. 9 Arizona Western, the only foe to beat Yavapai this season, stands at 9-1-3 (30 points). Phoenix sits at 9-2-3 (30 points) after beating Mesa Community College, 3-1, Tuesday.
Following a grueling, physical match against Pima, Yavapai turns around and visits pesky No. 14 Phoenix College at 7 p.m. Thursday. The Roughriders will then play three of their last five regular-season matches at Ken Lindley Field in Prescott, where they haven't played all season.
"The league's just getting tougher and tougher," Pima coach Dave Cosgrove said. "It used to just be the big four. But now you've got other teams that on a bad day can beat anybody."
UP NEXT
Yavapai travels to Phoenix for a 7 p.m. kickoff against the Bears on Thursday. In their first meeting, the Roughriders tied the Bears 1-1 in double OT Sept. 14 in Prescott Valley. Pima visits Scottsdale at 3:30 p.m. Thursday.
Follow Doug Cook on Twitter @dougout_dc. Reach him at 928-445-3333 ext. 2039, or via email at dcook@prescottaz.com.
More like this story
SUBMIT FEEDBACK
Click Below to:
This Week's Circulars
To view money-saving ads...