Carell: Bobby Riggs was just a showman
Originally Published: October 3, 2017 6:01 a.m.
"Battle of the Sexes" star Steve Carell believes that feminist Billie Jean King's male tennis nemesis Bobby Riggs was neither a chauvinist nor a pig - just a showman. (Oct. 2)
Related story
In 'Battle of the Sexes,' King passes a baton to Emma Stone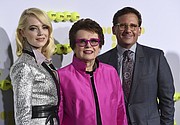 TORONTO (AP) — Walking through the tunnel to Arthur Ashe Stadium alongside Billie Jean King, Emma Stone gasped at the size of the U.S. Open's main court.
King, of course, was more familiar with the grounds of the tennis center — it's named after her, after all. But as accustomed as Stone is to the spotlight, her playing fields are usually private film sets or more intimate television show audiences. In making "Battle of the Sexes," a new film about King's infamous 1973 showdown with Bobby Riggs (Steve Carell), Stone was often both awed and a little jealous of the stages on which King crusaded for sport and for women's rights. (King helped win equal prize money for women at the U.S. Open that same year.)
In tennis, the lines are clear, the scoreboard is final and a landmark victory against sexism could go down in straight sets.
"It's just such a longer conversation in the movie industry," Stone said in an interview shortly after watching the women's finals with King earlier this month, which saw Sloane Stephens capture the trophy. "When I look at a tennis match, whoever wins at the end, the prize money should be equal. There are so many moving parts in how that comes to pass on a film to film basis. But of course things need to be changed."
"Battle of the Sexes," which Fox Searchlight will release Friday, is in some ways a time-traveling experience back to the 1970s and the chauvinism of another era. But the film, directed by Jonathan Dayton and Valerie Faris, also seems very much of today, coming less than a year after a bruising presidential election often fought over gender lines. And King's fight for pay equality — she helped launch the female-only Virginia Slims tennis circuit after objecting to the disparity between male and female prize money — also has clear reverberations for Hollywood's own issues in compensating men and women equally.
More like this story
SUBMIT FEEDBACK
Click Below to:
This Week's Circulars
To view money-saving ads...