By
Max Efrein
|
mefrein
Originally Published: October 2, 2017 6:01 a.m.
Photo Gallery
Prescott Comic-con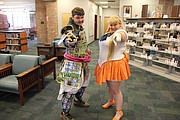 Prescottonians got into character for the Prescott Public Library's first comic book convention, held Saturday, Sept. 30.
It wasn't what you might find in Phoenix or San Diego, but Prescott Public Library's first attempt at hosting a comic-book convention (comic-con) delivered great energy and drew a clear interest from the local community.
Better known for taking place in large metropolitan areas, comic-cons provide an opportunity for people of all ages to express their inner geeks and celebrate comics and cosplay (dressing up as characters from movies, books, manga, anime, video games, etc.) in an encouraging environment.
Russell Miller, a reference librarian at Prescott Public Library, originally came up with the idea to host one in Prescott, but was unsure if it would work in such a small market.
"It was kind of laughable," Miller said. "People were like, 'can you do that?' And I said 'I don't know.' Nobody's done this before in Prescott, to my knowledge."
With a little help from other library staff and local enthusiasts of reading and the arts, it came together quite nicely on Saturday, Sept. 30. Its official title was Hazzah! The Comic-con.
Members of the community not only showed up in full cosplay regalia, but expressed sincere gratitude for the local effort.
Nicole Jack, for instance, has been hoping to see a comic-con culture come to life in the Prescott area for some time now. She's been to quite a few comic-cons and finds the larger ones to be a little too overwhelming.
"I like the smaller ones better. They're more intimate," said Jack, who came dressed on Saturday as Venus from the Japanese manga and television series Sailor Moon. "When you go to the bigger ones, you don't see so much. When it's small, people just all come together and it's amazing."
Jacob Vester came with her to the event. He specializes in making samurai armor out of Pokémon cards.
"This has roughly 250 hours of work in it," he said in reference to his costume. "I've spent two years working on it and I'm not done yet."
Cherri Long decided to bring her two children to the event. One was dressed as a Power Ranger. The other a SWAT police officer. She simply wore a dinosaur's head.
"My children love the library," Long said.
When she told her kids about the event, they were excited to check it out even though they didn't really know what it was. This was her first time going to any sort of comic-con as well.
"I've always wanted to go," she said.
Helping to promote the atmosphere by passing out candy and singing songs and sea shanties were Mick Shepard, Deirdre Rogers, Tana Karen, Roy Smith and Tom and Cathey Rusing. The bunch were dressed as pirates and served as the event's mascots.
"It's for the cause," said Shepard, who played as captain Vinegar Jack. "A worthy cause."
That cause Shepard was referring to is the promotion of reading.
"The treasure is really the treasure you find in books," Tom said.
The library has a collection of about 1,500 comic books and graphic novels.
Many were hand-selected by Miller – who used to be a comic book artist – so, of course, he recommends anyone interested in the form or entertainment to take a look at them and check them out at their leisure.
Follow Max Efrein on Twitter @mefrein, email him at mefrein@prescottaz.com or call him at 928-445-3333, ext. 1105.
More like this story
SUBMIT FEEDBACK
Click Below to:
This Week's Circulars
To view money-saving ads...