OJ Simpson freed from Nevada prison after serving 9 years
Originally Published: October 1, 2017 11:57 a.m.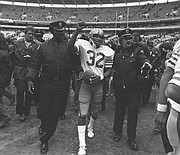 LAS VEGAS (AP) — Former football legend O.J. Simpson became a free man again Sunday after serving nine years for a botched hotel-room heist in Las Vegas that brought the conviction and prison time he avoided in the killings of his ex-wife and her friend after his 1995 acquittal in the "trial of the century" in Los Angeles.
Simpson was released at 12:08 a.m. PDT from Lovelock Correctional Center in northern Nevada, state prisons spokeswoman Brooke Keast told The Associated Press. She said she did not know the driver who met Simpson upon his release and didn't know where Simpson was immediately headed in his first hours of freedom.
"I don't have any information on where he's going," Keast added.
Neither Simpson's attorney, Malcolm LaVergne in Las Vegas, nor state Parole and Probation Capt. Shawn Arruti, who has been handling Simpson's case, immediately responded to messages.
Keast said the dead-of-night release from the prison about 90 miles (145 kilometers) east of Reno, Nevada, was conducted to avoid media attention.
More like this story
SUBMIT FEEDBACK
Click Below to: