10 Things to Know for Today
Originally Published: November 30, 2017 5:38 a.m.
Your daily look at late-breaking news, upcoming events and the stories that will be talked about today:
WHAT PHOTOS SAY ABOUT NEW NORTH KOREAN BALLISTIC MISSILE
Images of the Hwasong-15, a new ICBM Pyongyang claims can reach any target in the continental U.S., is a goldmine for rocket experts trying to parse reality from bluster.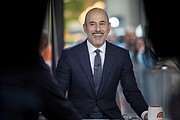 ANOTHER BIG NAME FALLS
Matt Lauer's firing as host of NBC's "Today" makes him the biggest media figure brought down by sexual misconduct allegations since Bill O'Reilly and Roger Ailes were ousted from Fox News Channel.
AFTER ADULATION, A RECKONING
Hero celebrities have fallen before — Bill Cosby to name one — but never in the rapid succession that has rocked so many worlds since revelations about Harvey Weinstein exploded into the mainstream in October.
WHO HAS BEEN QUERIED IN RUSSIA PROBE
Trump's son-in-law Jared Kushner has been questioned by special counsel Robert Mueller's investigators about former national security adviser Michael Flynn.
POPE BEGINS SECOND LEG OF SOUTH ASIA TOUR
The pontiff is now in neighboring Bangladesh where the Muslim Rohingya refugee crisis is expected to take center stage.
US TROOPS GET FREEZE-DRIED PLASMA FOR BATTLEFIELD BLOODSHED
The Special Operations fighters that U.S. generals are sending off to fight in remote mountains and deserts now have blood plasma in their first aid kits.
AP FACT CHECK: ANTI-MUSLIM VIDEOS MISREPRESENT
Like much other propaganda, the anti-Muslim videos spread around by Trump mix grains of truth, fakery and shades in between, overlaid with a message meant to be a blunt hammer blow for a cause.
US FREES AFRICAN ASYLUM-SEEKER WHO'S ON LIFE SUPPORT
The case of 33-year-old Saliou Ndiaye of Senegal raises questions about the United States' responsibility for immigration detainees' care, AP finds.
EARLY HOLIDAY SHOPPING REVEALS TRENDS
As shoppers have bought TVs and toys so far this holiday season, they've shown a desire for deals but also an inclination for some impulse spending, retail experts say.
WHERE THE FOCUS IS ON TIGER WOODS
When the 14-time major champion tees it up in the Bahamas for a competitive round for the first time in nearly 10 months, the question is how long his latest comeback from injury will last.
More like this story
SUBMIT FEEDBACK
Click Below to:
This Week's Circulars
To view money-saving ads...