Theft suspect calls 911 when victims confront him
Originally Published: November 28, 2017 6:01 a.m.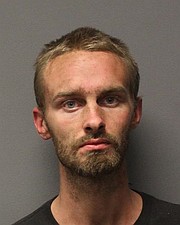 A man who was accused of breaking out the window of a pickup truck left on Highway 69 on Nov. 21 with a flat tire and taking items out of it was arrested after he called 911 to report three men, including the pickup's owner, threatening him, according to Yavapai County Sheriff's spokesman Dwight D'Evelyn.
Deputies contact the owner, who said he left his pickup on the side of Highway 69 near Mayer High School when he had a flat tire.
When he returned with a spare, he saw the broken window and a car leaving the area, D'Evelyn said, so he followed the car to Rocking Lake Lane, where he blocked the car in.
As the victim and his friends confronted the suspect, Robert Jones, 25, of Glendale, Jones called 911 for help.
Jones denied involvement in the theft, despite the fact that the victim saw his duffel bag and tire iron in Jones' car, D'Evelyn said.
Jones was booked into the Camp Verde jail on charges of burglary and criminal damage. He's being held on a $25,000 bond.
More like this story
SUBMIT FEEDBACK
Click Below to:
This Week's Circulars
To view money-saving ads...