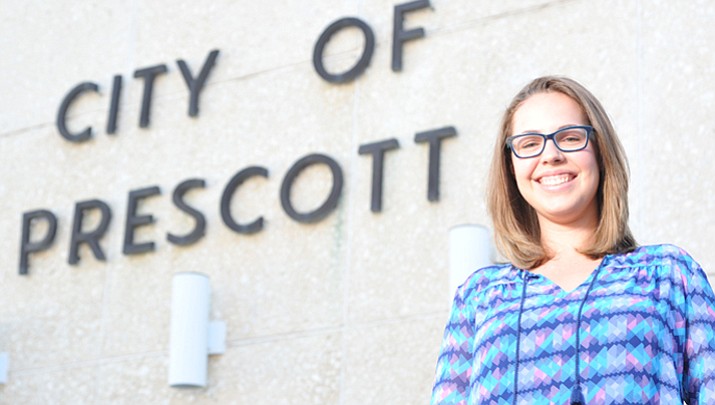 Photo by Les Stukenberg.
Originally Published: November 27, 2017 6:01 a.m.
Alexa Scholl knows that her recent run for Prescott City Council generated plenty of curiosity in the community.
The 20-year-old experienced it again and again on the campaign trail, where she fielded numerous comments on her young age.
In response, Scholl took to inviting skeptical voters to sit down with her and talk about the issues.
"I know I don't fit the stereotypes of a 20-year-old," she says. "But I'm knowledgeable about the issues, and I'm in this for the right reasons. I love Prescott."
Her approach apparently was convincing for voters. Of five candidates running for three seats on the council in the recent general election, Scholl was the top vote-getter, garnering a total of 8,690 votes.
On Tuesday, Nov. 28, she will be sworn into office for a four-year term — the youngest Prescott City Council member in recent history.
She attributes her ease with voters to a number of factors.
First of all, she says, as an only child of two long-time educators (Chino Valley Unified School District Superintendent John Scholl, and Prescott Unified School District Assistant Superintendent Mardi Read), Scholl said she grew up hearing about politics. And as an only grandchild in the area as well, she said, "I grew up with adults."
Then, when she was eight or nine years old, Scholl says a genealogical discovery by her maternal grandfather piqued her interest in government even more.
"My grandfather found that we were descendants of George Read, who was one of the signers of the Declaration of Independence," Scholl said. That discovery, and the fact that the early Read was only "nine or 10 generations" in the past, fascinated Scholl.
She became focused on local matters a few years back when she was approached, as a high school student, to serve on the Granite Mountain Hotshots Memorial Partnership — a group formed to choose a memorial on the courthouse plaza to the 19 fallen Granite Mountain Hotshots.
"It's been an absolute honor to work on that," Scholl said, pointing out that while she did not personally know any of the Hotshots, her work on the partnership is allowing her to "learn who they were as people."
Along the way, Scholl said, she was struck by the lack of involvement by young people in city government.
"In my eyes, there was a void on the council," she said. Although former Councilman Charlie Arnold had served a few years back while in his mid-20s, no one else under 30 was in the picture.
That was factor that also appears to have resonated with voters. "I think a lot of people grabbed onto me because I was out of the norm," Scholl says.
As a registered independent, Scholl said she aimed throughout the campaign to let voters know she would represent all residents, with no political partisanship. In fact, her campaign's purple theme signified a combination of the Republican red and the Democratic blue.
One of her first goals as a council member will be to encourage more young people to participate in city government. She also plans to work to bring businesses to town that will offer well-paying jobs for young people.
While Scholl will be juggling a number of obligations as a council member, she says she is committed to making it work.
She currently is a full-time political-science student at Arizona State University, and works 20 to 30 hours a week at a local law firm.
Although she had been driving to Phoenix for classes two days a week, Scholl said she recently changed to all online classes. And her employer allows for flexible hours to fit in the city obligations.
Now in her junior year, Scholl is on track to graduate from ASU in December 2018. After her term on the council, she plans to attend law school.
More like this story