Education advocacy rooted in promise to Nicaraguan boy
Prescott woman desires to make world better place for children

By
Nanci Hutson
|
HutsonNanci
Originally Published: November 26, 2017 6:01 a.m.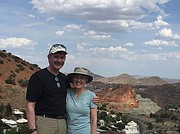 Ask Rosemary Agneesens if she has children and she will answer, "Thousands."
A Franciscan nun for 24 years before she married and became an Arizona teacher, principal, community organizer and semi-retired education advocate with the Yavapai County Education Service Agency, the 69-year-old has no biological children. Yet she has devoted her life to offering educational opportunities to children and families, be they close to home or residing in a Third World village.
"I've always been about what needs to change. How do we make sure every child no matter where they live has an equal opportunity to an education?" Agneesens said.
Growing up in Detroit, Agneesens said she lived in area that was its own mini "United Nations." She learned at a young age that race, creed and socio-economic differences mattered little to her when it came to building relationships. She considered everyone her "friend."
Her Belgium-born father, Francis Agneesens, owned a poultry and fish business that employed people of all backgrounds such that he gained a reputation as someone who people could trust because he treated everyone with decency and respect. Amid the race riots in Detroit, Agneesens recalls her father's business was left alone in response to how he always treated people.
"It was in Detroit where I learned about justice, and injustice," Agneesens said.
Agneesens' calling to a life of faith started with religious duties in Green Bay, Wisconsin where she worked teaching both children and adults. The first in her family to earn a college education, Agneesens earned her undergraduate college degree in education and theology at St. Norbert College-DePere in Wisconsin. She later earned her master's degree in leadership and Hispanic ministry at the University of the Incarnate Word in San Antonio, Texas.
For three of her undergraduate summers working in British Columbia working with women's groups.
"That was a phenomenal experience," Agneesens recalled.
In 1980, Agneesens did a three-year mission in Nicaragua, again working with women and youth before she returned to Texas where her primary focus was community organization. In one county that had one of the highest rates of hepatitis in the state, Agneesens worked to bring in sewer and water to an undeveloped neighborhood, known as a "colonia," a place she described as la "patch of dirt."
Again, Agneesens described that work as an "incredible experience" as it propelled her into a role where she could make a real difference for people in less than ideal circumstances.
In 1990, Agneesens decided her role as a nun was no longer the right fit. She departed Texas for Phoenix where she accepted a three-year position with Valley Interfaith Project. In that job, Agneesens was again working with communities wrestling with gangs and drugs to make a difference. Her focus was to build leaders from within the community, and they did projects that ranged from removing discarded Christmas trees from street curbs in the spring to creating drug-free school zones. She said she was gratified to be able to empower women who touted themselves as "just a Mom" into strong, committed community leaders.
In 1992, she met and married husband, Don Gerber, an electrical engineer, who she describes as "the best gift of my life."
In 1993, Agneesens started an 18-year career with the Creighton Elementary School District. She started in a Spanish component third-grade class and then moved into a bi-lingual gifted class, establishing for the kindergarten to eighth-grade district a bilingual gifted and dual language programs.
In 2000, Agneesens was promoted to principal where she again strived to rally parents regardless of language and other barriers to become advocates for their children.
Then in 2011, Agneesens was hired as principal at Abia Judd Elementary in Prescott, a place she and her husband had built a house several years earlier. Again, her focus until her retirement in 2014 was on building relationships and advocacy for the highest-caliber education possible for all students.
For two years after she left Abia Judd, Agneesens worked for the district as a coach for new principals. She now works for the county as a community organizer and education advocate, with a focus on obtaining adequate resources for rural school districts. She talks to lawmakers, attends Town Hall meetings, and does extensive research all with the aim of helping the powers that be recognize the need to properly fund and deliver the very best education possible for all students across this state.
With her keen intellect and energetic spirit, Agneesens is someone who admits she simply is not yet ready for the sidelines. She and her husband enjoy traveling and outdoor pleasures, but she has an unrelenting passion for leading others to make the world a better place for children.
"How do we change our culture? How do we make society better?" queried Agneesens, credited with advocating for the successful 2015 Prescott Unified School District $15 million bond and $6 million override.
Agneesens was nominated by PUSD leaders for the Prescott Area Leadership's 2017 Man, Woman and Youth Awards.
"She is one of the most dynamic leaders I know," said her successor at Abia Judd, Clark Tenney.
When she left Nicaragua, Agneesens said she made a promise to one of the little boys.
"My promise: I would somehow, some way be a true advocate for children," she concluded.
More like this story
SUBMIT FEEDBACK
Click Below to: