Melanie Snyder directs 'A Charlie Brown Christmas' on Stage Too!

Originally Published: November 24, 2017 11:02 a.m.
At first, there wasn't going to be kid oriented show at the Prescott Center for the Arts for the Christmas season, then Melanie Snyder provided the opportunity with "A Charlie Brown Christmas."
It'll be at the PCA, 208 S. Marina St., from Thursday, Nov. 30, to Sunday, Dec. 17, at Stage Too, the black box theater in the alley behind the main stage.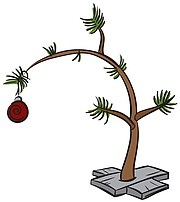 Though some student matinees are going to be on the main stage, meaning she's having to stage the show twice, being able to do the show in Stage Too is what attracted her to direct, Snyder said.
"It's a small, intimate cast and it's a little intimate story, so it really works in there," she said. "The kids are so psyched to be able to do it in both stages."

For show dates and times, visit www.pca-az.net. The first performances are Nov. 30 at 6 and 7:30 p.m.
For some of her actors, it's their first show ever, Snyder said. Stage Too is a perfect experience for them because it's a smaller space and they don't have to push their voices, she said. It's also fun to see them blossom from having no experience to performing in front of people, Snyder added.
Turning a half-hour Christmas special into a stage show has been a big challenge, especially when the actors went out and watched it to prepare, she said. Some of them have compared what Snoopy does in the special to what they're doing on stage and she's had to tell them that they aren't an ice dancer and Snoopy can do that because he's a drawing.
"It's kind of nice that they want to honor that. It's a modern gesture that we're doing," she said. "We're sort of going for the traditional time period, so it's not a lot of modernizing with the behavior and it's so foreign to them because it was 50 years ago."
Scheduling rehearsals has been a bit difficult too, Snyder said. The kids are so busy with school and everything after along with other PCA shows having their own rehearsals, but she was able to schedule them for right after school, she said.
Tickets are $12 and available online or at the door.
Having been a professional actor for 35 years, she knows that everyone's in a festive mood when they come see a holiday show, Snyder said. That's why Christmas is her favorite time of year, she said.
For more information about "A Charlie Brown Christmas," call the PCA at 928-445-3286.
More like this story
SUBMIT FEEDBACK
Click Below to: