From tragedy comes a place to start healing
Project Andrew, Healing Haven spring up in Prescott neighborhood

By
Cindy Barks
|
Cindy_Barks
Originally Published: November 20, 2017 6:02 a.m.
No strangers to tragedy, Jenn Winters-Ashcraft and Tom Ashcraft have become well aware of an unfilled need in the community: Help in dealing with after-effects of grief and loss.
Four and a half years ago, Tom lost his son Andrew — one of 19 Granite Mountain Hotshots who died fighting the June 2013 Yarnell Hill Fire.
Years earlier, Jenn Winters (now Winters-Ashcraft) had watched New York City's World Trade Center collapse in the terrorist attacks on Sept. 11, 2001, and has since helped others by volunteering with the American Red Cross.
The two first connected while Winters was among the Red Cross volunteers helping families cope with the Granite Mountain Hotshot tragedy.
Then about two and a half years later, they reconnected and formed a bond. They were married in December 2015 at the close of the annual Courthouse Lighting on the courthouse plaza, with thousands of holiday revelers looking on.
Since then, the Ashcrafts say they have had a common goal to help those who are dealing with tragedy.
"When Tom lost his son Andrew, he realized that there was hardly any after-care for grieving parents or first responders returning to work after tragedies, especially faith-based programs offering spiritual help and guidance," Winters-Ashcraft says. "That weighed heavy on both our hearts."
Over the past two years or so, they have been in the midst of filling that gap – first with a fire-wise program called Project Andrew, and also with the related Healing Haven Foundation.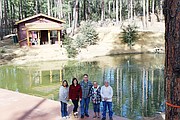 Hotshot connections
Soon after their wedding, the Ashcrafts began looking for a special and serene place to live and continue their healing, when they came across a home in a wooded area off White Spar Road. They say they knew immediately that the property fit the bill.
"As we drove up the road, it started to feel like home," Winters-Ashcraft says. As they sat down with the property owners, Tom said, "I feel I'm supposed to be here, like this is my home."
That began a series of actions that the Ashcrafts believe to be divine intervention.
By coincidence, the owner of the property Bob Simpson (along with his wife Patti) is a retired Phoenix firefighter who had earlier built a 500,000-gallon fire-suppression pond to help protect his forested Hidden Valley-area neighborhood against wildfire.
Upon noticing the Ashcrafts' name, Bob Simpson asked if Tom was the father of Andrew, and when Tom replied that he was, the Simpsons responded that they wanted the Ashcrafts to live on the property, adjacent to their own home.
Simpson then shared a story that connected the property, the two couples, and the fallen Granite Mountain Hotshots.
When he was building the pond in about 2011, Simpson said, he had help from several local sources: then-County Emergency Management Coordinator Nick Angiolillo, former Prescott Fire Chief Darrell Willis, and the Granite Mountain Hotshots.
The Hotshots — and likely Andrew himself — had helped to clear the brush for the pond, Simpson told the Ashcrafts.
Hotshots had also been instrumental in helping to save the neighborhood during the May 2002 Indian Fire, Simpson said, noting that the fire had come within 200 to 300 yards of his home.
"The Hotshots did an unbelievable job," Simpson said. "We were so fortunate in that fire. There were a lot of resources available; they had the planes sitting there; and they hit it good."
Indeed, that close call led Simpson and others in the area to start a neighborhood fire-protection effort — the non-profit Hidden Valley Volunteer Fire Department. Along with construction of the pond, the group also works to extinguish unattended illegal campfires in the area.
Simpson pointed out that the pond is available to provide water for fire engines that may be onsite to battle area wildfires.
To date, the pond has not been needed, and Simpson hopes it stays that way. "I hope they will never have to use it, because if they're using it, it's going to be a pretty bad situation," he said.
Ongoing efforts
Meanwhile, the Ashcrafts have been working on fire-wise, healthy-forest efforts in the neighborhood with assistance from agencies such as the Prescott Area Wildland Urban Interface Commission (PAWUIC) the Natural Conservation Resources Service (NRCS), and Forest Stewardship with the U.S. Forest Service.
"After over a year and a half, we have worked to further develop Hidden Valley Volunteer Fire Department," Winters-Ashcraft says. "In the very near future, we want to provide all of our local fire agencies (with) emergency management classrooms for education presentations, including real world training for ground fuels crews, free of charge."
The Ashcrafts also have been working on the Healing Haven Foundation to provide first responders with healing course materials, programs, counseling, and after care.
"We want to be there in times of crisis and intervene with all our resources, including counseling and prayer," Winters-Ashcraft says.
Noting that while immediate care may be available after tragic losses, Tom Ashcraft stressed, "Equally as necessary is long-term care; it could be years from now. It doesn't just stop."
The foundation's website (http://HealingHavenFoundation.org) states that the organization provides "healing courses proven effective to help everyday heroes and citizens impacted by trauma of loss, grief and PTSD in a retreat-like setting nestled among tall ponderosa pines in Prescott, Arizona."
The organization can be reached through email at: Info@HealingHavenFoundation.org.
"We're on this property, I believe, through divine intervention," Winters-Ashcraft said. "We want to carry on what Bob and Patti started and what Andrew helped with."
More like this story
SUBMIT FEEDBACK
Click Below to: