A focused path to lead students
PHS principal thrives on helping students and colleagues succeed on their career paths

By
Nanci Hutson
|
HutsonNanci
Originally Published: November 19, 2017 6:03 a.m.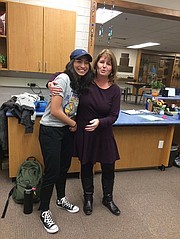 Stephanie Hillig never debated her career path.
From the time she was a little girl and invited to go with her maternal uncle into the elementary school where he was the principal, the Prescott High School principal knew she was going to be an educator.
"He has been my inspiration my whole life," the now 46-year-old administrator said of her uncle Brad Smith. "I wanted to follow in his footsteps."
It was one of her college professors at the University of Arizona who suggested with her aptitude in math she might want to teach middle school or high school rather than elementary students.
She took his advice.
Hillig earned her bachelor's degree in secondary education with a minor in coaching.
She was a student teacher at Mountain View High School in Tucson, and then hired as a first-year Algebra 1 teacher to students who had previously failed the course. In that role, Hillig said she discovered a strength: the ability to connect with students so that they could see themselves as successes rather than failures. Hillig, too, was the girl's basketball and volleyball coach; one year she also coached the cheerleading squad.
"I came alive as I saw them come alive and be successful," said Hillig, who met her husband, Blair, now a Bradshaw Mountain High School math instructor, in that school. The couple who live in Prescott Valley have four children, twins Kirsten and Kara are PHS seniors; her son, Blair Jr. is a freshman at Bradshaw Mountain High and her youngest is Kaylie, an eighth grader at Mile High Middle School in Prescott.
Hillig quickly learned to be a good educator, though, is not just about knowing your content. It is the ability to understand a students' struggles outside the classroom, be that a troubled family or an inability to cover the costs of a band instrument. She promoted a belief in a well-rounded student and worked to connect students to whatever resources or school activities that seemed a good fit.
In her third year of teaching, Hillig was promoted to department chairman. In that role, she worked collaboratively with her colleagues to seek out best instructional practices and build lasting relationships with students.
From there, Hillig was hired in Marana, a suburb of Tucson, to be the director of an alternative high school for sixth through 12th graders. Much of the focus of that school was related to career and technology courses so that students could earn certification that would enable them to enter the workforce after graduation.
"The students were really amazing," Hillig said.
With her own children approaching school age around that time, Hillig said she and her husband started to consider moving away from the Tucson area. The Prescott area proved exactly what they wanted.
In 2005, Hillig accepted her first principal post at what then was one of Prescott's two middle schools: Granite Mountain Middle. Two years ago, Granite Mountain was converted to a fifth and sixth-grade only school.
"I absolutely adore this age group because these kid are just figuring out who they are," Hillig said of the middle and high school years.
At Granite Mountain, Hillig won numerous accolades, including the 2010-11 Arizona's Distinguished Administrator Award for the Middle School division.
She said it was a humbling experience. She said she views her role as something of a team captain. She does nothing on her own.
As a district administrator, Hillig is required to make some tough, unpopular decisions, be it related to student discipline or whether or not to renew a teacher's contract. She is required to answer to the community related to test scores, graduation rates and student accomplishment. She must build relationships with parents and community members who may not always appreciate her stands on a particular matter.
Hillig takes that in stride. Her promise is that as a leader she will never hide behind her office door; she is a visible presence in the school and community; she attends virtually all school functions. She has an open ear to new ideas, be they from staff, students or parents. In any and all discipline matters, she is adamant she and her staff will never strip anyone of their dignity.
"She's the good, the bad, and the better," said senior Casey Yates who said Hillig was his principal at both Granite Mountain and the high school.
"What I appreciate about Stephanie is that she allows you to do your job without a great deal of interference," said administrative assistant Laurie Ann Frank. "If you don't understand, or agree, with something, her door is always open. If you have a personal issue, she's always willing to listen.
"I've found her to be a very effective leader."
"I feel blessed every day to be here," Hillig concluded.
Follow Nanci Hutson on Twitter @HutsonNanci. Reach her at 928-445-3333, ext. 2041.
More like this story
SUBMIT FEEDBACK
Click Below to: