Tips for living with coyotes; rule No. 1 - Don't feed them
Originally Published: November 17, 2017 6:02 a.m.
PREVENTING COYOTE PROBLEMS
• Remove garbage, pet food, water sources from outside the home.
• Never feed coyotes.
• Encourage neighbors not to feed coyotes
• Feed pets inside
• Don't leave pets unattended at dusk and dawn
• Keep poultry, rabbits, and rodents in secure enclosures
•Trim and remove ground-level shrubs and branches that could provide hiding places
• Secure garbage containers and eliminate odors
– Information provided by Arizona Game and Fish Department
If you live around here long enough, you're going to have some sort of run in with Canis latrans, or the coyote. They're an everyday sight in Arizona, but no one knows just how many roam the region.
"Coyotes are extremely common," said Darren Tucker, wildlife manager supervisor for Prescott at the Arizona Game and Fish Department. "They exploit all sorts of different foods sources and habitat types. I couldn't hazard a guess at a population number."
In their constant hunt for food, coyotes are easily labeled as pests. They are curious, clever, and adaptable as they learn the surroundings of a newly discovered food source. It's possible for coyotes to prey on livestock, but it is what humans leave behind that causes most of the problems.
"When people intentionally put food out for javelina (which is now illegal in Prescott) … there's no doubt that coyotes may eat it," he said. While coyotes are primarily carnivores, they are also opportunists that are able to change their diets to suit what they find.
There is a large segment of the population who want coyotes hunted in order to preserve some of the smaller animals, especially pronghorn fawns.
"Studies in other places suggest that if you remove coyotes, you will have a big effect on rodents, rabbits and bobcat. Those populations will probably go up," said Tad Theimer, Northern Arizona University's Biological Sciences Department chair. "It can produce an increase with pronghorn fawns, but that's an assumption and hasn't been proven."
Coyotes are roamers and are always seeking a food source. They've been known to eat pet food, knock over garbage cans, and even walk on top of walls around homes while searching. Coyotes like yards where quail or other wildlife are fed and that can lead coyotes to hunt small pets like cats and dogs.
"If coyotes have access to those animals, they don't view them as a pet, they view them as a food source," Tucker said. "In certain areas, where they become habituated to people … I don't like the term 'lose fear,' but they get used to (human activity), and they accept it as normal."
If you don't want coyotes around your home, the best thing to do is to get rid of what attracts them.
"Remove sources of food so coyotes don't get used to eating around human homes," Theimer said. "Thirty percent of coyote attacks are because they are being fed intentionally or unintentionally. Fencing is a good idea. That keeps a lot of wildlife problems at bay."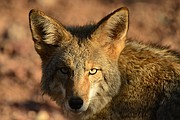 Allowing coyotes too close can be a health issue. Coyotes carry concerns like rabies, canine distemper, canine heartworm, mange mite, and tapeworm.
"There have been cases were people have been bitten by coyotes," Tucker said, although that's very uncommon. Nevertheless, if wildlife managers feel that one "is acting unusually aggressive or it's a situation where the public might get hurt, we may take some action to remove that coyote."
He added that while some people joke that after a nuclear war, coyotes and cockroaches are all that will be left, when it comes to coyotes, "they may not be too far off."
Kingman Daily Miner reporter Shawn Byrne contributed to this story.
More like this story
SUBMIT FEEDBACK
Click Below to: