'Tis puts on winter eclectic works exhibit

Originally Published: November 16, 2017 8:39 p.m.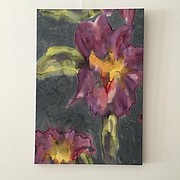 'Tis Art Center & Gallery is getting ready to open its Winter Eclectic Works Exhibit, which will run from Thursday, Nov. 23, to Tuesday, Dec. 26.
It'll feature works in various media, said 'Tis Marketing & Art Education Director Patti Ortiz. However, it was difficult figuring out what to call it, Ortiz said.
"Eclecticism has to do with combining ideas … a new and unique way of putting them together," she said. "That's what we challenge the artists to do."
Each of 'Tis' themed shows are designed to encourage artists to think outside of their box, Ortiz said. It's even in the advertising as she included the words "think outside the box" backwards, something borrowed from Da Vinci, she said.
Further, though the work at the gallery is more modern, it doesn't want to use the terms "modern" and "contemporary," Ortiz said. The reason for that is it labels them into a generic category and they don't want to pigeonhole the artists, she said.
There won't be one artist highlighted over another either because there's no desire to play favorites, Ortiz said. At the same time, everything featured is going to be new and people visiting the gallery might be able to learn something new about eclecticism, she said.

Though the show's artwork isn't up yet, Ortiz said that one difficulty in putting it together is coordination, highlighting how Judith Skinner figures out where to put everything.
"When we do put these shows together, you have to look at how the gallery works as a whole, how each piece works as a whole," Ortiz said. "She'll lay out pieces along the wall and just kind of play like a game with color and shape and things like that."
'Tis Art Center and Gallery is located at 105 S. Cortez St. For more information about the show, visit www.tisartgallery.com or call 928-775-0223.
More like this story
SUBMIT FEEDBACK
Click Below to: