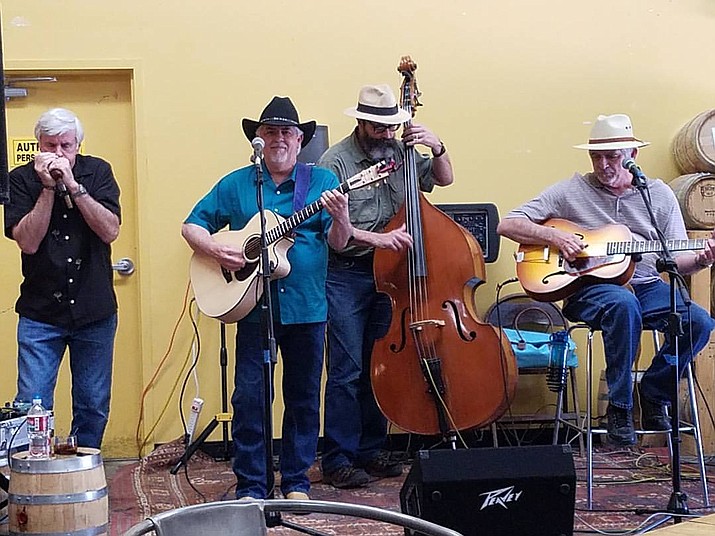 Originally Published: November 16, 2017 8:44 p.m.
In the year and a half since the Ping Brothers took on the open mic at Thumb Butte Distillery on Sunday afternoons, the quality of music has really grown, said owner Dana Murdock.
"They curate the afternoon, so they know what musicians are here … They start it out and then they'll bring other people up to play with them or if there's another group they'll play and usually by the end, everybody's up on stage performing. It's pretty cool to see," Murdock said. "The level of music is much better than your average open mic, which can be terrifying."
In fact, the reputation for open mic at Thumb Butte Distillery has gone far and wide, said Bartender and Brand Ambassador Ramona Melvin. It's reputation being a "who's who" of local musicians in Prescott, such as Don Cheek and Anton Fischer, has really grown, Melvin said. It's given younger up-and-coming local musicians a venue, chance to more experienced people to play with and the opportunity to make connections, Murdock said.

To celebrate what's become known as The Ping Brothers Review & Open Mic, Thumb Butte Distillery is holding an anniversary bash at 2 p.m. on Sunday, Nov. 19. It'll celebrate the open mic and its participants with The Ping Brothers and friends with cocktails, chili, snacks cookies and music.
"When Dana throws a party, the distillery has a reputation about throwing a party with great food," Melvin said. "Dana's background is cooking and cuisine and party throwing. We'll have this potluck menu."
Murdock said she'll be making a big pot of chili while other people bring accoutrements to it, as well as desserts.
Musicians coming to help celebrate include Don Cheek, Kenny James, Evie McMasters, Rick Jordan, Alesa, the Nin Duo and more. It's a great way to give back to the Ping Brothers for making the open mic become an important part of the community, Murdock said.
"When people move here and they wander into the distillery, and we tell them about Sunday afternoon, then you see them show up and they make connections. They meet people, they sit at these big communal tables or they sit at the bar and the make friends. They become part of the community," she said. "The older you get, it's harder to connect with new people and this helps facilitate that … music always helps."
Thumb Butte Distillery is located at 400 N. Washington Ave. and can be reached at 928-443-8498.