It's a Hard Knock Life at the Elks this weekend

Originally Published: November 16, 2017 9:36 p.m.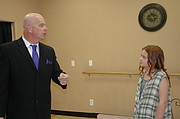 At the young age of 12, Tamee Niekamp sat in the audience of a theater watching Annie, her very first musical, a memory that's always been with her.
"I remember it to this day and I've always wanted to do it," Niekamp said. "It was going to be at the Elks. I was determined that's where it was going to be."
Niekamp's dream is coming true this weekend as One Stage Family Theatre and Lessons by Lexe present "Annie" at the Elks Theatre and Performing Arts Center, 117 E. Gurley St., on Friday and Saturday, Nov. 17-18.
It's co-directed by Niekamp and Shana Lujan with Virginia Ruwald playing Annie and Matthew Hepker playing Oliver "Daddy" Warbucks.
There were a lot of girls who showed up to auditions wanting to play Annie, Niekamp said. Not only was Ruwald the perfect fit, but she was also willing to dye her hair, she said. Her hair is straight too, which is more fun and natural than the Ronald McDonald-type wig, Niekamp said. Doing that allows people to relate to the character and give the feel that anyone could be Annie, she said.
Ruwald has also had quite a bit of dedication to her role, considering she's had to be at every rehearsal, Niekamp said.
Lujan is also acting in the show as Ms. Hannigan, a major role she always wanted to play, she said. With it being at the Elks Theatre, she's looking forward to the whole thing, Lujan said.
"I love musicals period … Being at the Elks, something that's this classic, is a lifelong dream," she said. "The Elks is beautiful and this is a favorite of everybody."
Showtimes are at 7 p.m. on Friday and at 2 and 7 p.m. on Saturday. Tickets are $20 for adults and $15 for children and seniors and can be purchased online at www.prescottelkstheater.com, by calling 928-777-1370 or at the box office one hour prior to the performance.
While sitting in the audience at age 12 all those years ago, Niekamp said she remembers looking at the actors and thinking how cool it is that they can remember all their lines and songs. Now that she's directing it, she sees how far both the kids and adults have come, she said. They're all like family too, Lujan said.
"We play around just as much as we are serious," she said. "The adults look after the children and the children know that they can go to the adults if they have questions. It's a really close-knit group."
More like this story
SUBMIT FEEDBACK
Click Below to: