Gallery Guide: Week of Nov. 18
Originally Published: November 16, 2017 9:14 p.m.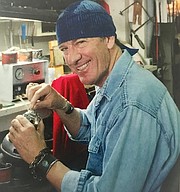 Art2 (Art Squared), 120 W. Gurley St. mezzanine, Prescott, 928-499-4428. On Facebook at Art2Prescott. Sculpture, pottery, photography, paintings, jewelry, wearable art, glass, gourds, wood and more.
Art on 6th Street, 697 6th St. (6th Street Business Park), Suites 106, 108, 302 and 309. 928-830-1454. Glass, paintings, jewelry, sculpture, art wear and more.
Arts Prescott Gallery on Whiskey Row, 134 S. Montezuma St., 928-776-7717, www.artsprescott.com. Through Nov. 21, see Vivian Farmer's acrylic paintings.
Bronzesmith Fine Art Gallery and Foundry, 7331 E. Second St., Prescott Valley, 928-772-2378. Foundry tours are available.
Gallery at the Prescott Center for the Arts, 208 Marina St. (entrance on Willis), 928-445-3286, www.pca-az.net. Holiday Market exhibit is on display through Dec. 19.
Gallery Beyond Words, 204 N. McCormick St., featuring fine art by Susanne Korte.
Joseph Robertson Gallery, 110 S. Montezuma St., Suite A, Hotel St. Michael's Alley, 928-308-0254, www.joesartgallery.net, features fine art from local artists Joseph Robertson and Beth Neely, as well as others from around Arizona.
Kriegers, 110 S. Montezuma St. Suite F, Hotel St. Michael's Alley, 928-778-4900. Clay, jewelry, painting, wood and photography by longtime local artists Heath Krieger, Cathy Krieger and Steve Smith. New to the gallery are jewelers Bill Ford, Curt Pfeffer and Leslie Parsons.
Mountain Artists Guild & Gallery, 228 N. Alarcon St., 928-776-4009, gallery@mountainartistsguild.org. www.mountainartistsguild.org. Nov. 17 through Dec. 23, the 8th annual Miniature Show. Holiday Gift Show through Dec. 23; 6x6" fundraiser in the main gallery.
Mountain Spirit Gallery, 140 S. Montezuma St., 928-445-2886, msgprescott.com. Western art featuring Bill Nebeker, Susan Kliewer, Kathy Quick Anderson, Paul Wenzel, K.L. Powers and 20 other local artists.
Newman Gallery, 106-A S. Montezuma St., 928-442-9167, www.newmangallery.net.
Ortega's Galloping Goose, 162 S. Montezuma St., 928-776-0077.
Phippen Museum, 4701 Highway 89 North, 928-778-1385, www.phippenartmuseum.org. "Kids, Colts & Calves" is in the James Gallery, through Jan. 21, and Western Treasures of the Phoenix Art Museum, through Feb. 18.
Prescott Valley Art Guild, 3380 N. Windsong Drive, www.prescottvalleyartguild.org.
Sean Goté Gallery, 702 W. Gurley St., 928-445-2233, www.seangote.com. Open for the Gallery Walk, 5 to 8 p.m. The gallery has opened its new upstairs show room with a collection of bronzes from the Bronzesmith Foundry in Prescott Valley. Featuring well-known bronze sculptors Kim Obrzut, Larry Yazzie and Oreland Joe. Also, a large collection of original paintings and bronze sculptures by well-known Arizona artist Allen A. Dutton.
Smoki Museum, 147 N. Arizona Ave., 928-445-1230, smokimuseum.org. Through Dec. 31 is the museum's "Contemporary Indian Cultures of Prescott" exhibit.
The Raven Café, 142 N. Cortez St. 928-717-0009, ravencafe.com. Current artists on exhibit are Pat Warwick, Robin Lieske, Steve Strussner and Jess Wolf.
'Tis Art Center and Gallery, 105 S. Cortez St. Prescott, www.tisartgallery.com. In the Mezzanine Gallery, "Art a la Carte," art to satisfy your artistic appetite: wearables by Jo Maginelli, needle felted sculpture by Deborah Salazar and polymer clay jewelry by Judith Skinner, through Dec. 30. In the Main Gallery, "Works in Watercolor," through Nov. 21.
Van Gogh's Ear, 156 S. Montezuma St., 928-776-1080, www.vgegallery.com. Representing more than 60 local and nationally known artists, featuring contemporary works of wall art, ceramics, bronze, glass, wood, wearable art, jewelry and more. "An Agreeable Society of Beings," featuring work by metal artist Jody Skjei, is on display. Van Gogh's Ear will be hosting a reception and truck show for Kit Carson's jewelry work during the 4th Friday Art Walk on Nov. 24, from 5 to 8 p.m. More photos of Kit's work at www.vgegallery.com. Kit's current line of jewelry is called "Romantic Rust," with a particular focus on cuffs made from rusted license plates and old tool boxes, also creating metal sculptures, wall art, furniture, lamps and guitars! As Robin Williams put it, "Kit Carson's art is like Dr. Seuss meets Rene' Lalique at the High Noon Bar."
Yavapai College Art Gallery, 1100 E. Sheldon St. 928-776-2031, www.yc.edu/artgallery. The Emerging Artist Exhibition, a juried exhibit highlighting the best of Yavapai College students' artwork, will be on display Nov. 17 through Dec. 13. An opening reception is set for 5 to 7:30 p.m. Friday, Nov. 17.
More like this story
SUBMIT FEEDBACK
Click Below to: