PUSD's preschool making connections
Quad-City Schools
Originally Published: November 13, 2017 6:01 a.m.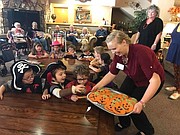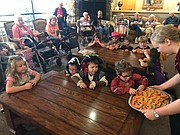 PUSD's preschool-age children are making connections with their community. It's an exciting new adventure for young and old alike. Both sharing the common ground of enjoying the moment and making new friends.
Discovery Garden's Preschool made special visits the week of Halloween, and an exciting new outreach program was initiated: our youngest students and senior citizens sharing time together celebrating a favorite holiday.
Both the Granite Gate Senior Living Center and the Margaret T. Morris Center welcomed buses full of Pre-K students, in costumes, to meet the residents and make new friends.
Pre-K teacher Trudy Thomas shared that her class was so excited about the upcoming visit that they had to make a "counting the days down" chart. The children also included the visit to Granite Gate in the stories that they dictate to her each day.
At Margaret T. Morris, children shared a lap with many residents who were also dressed up in Halloween costumes. At both centers, there were songs, games, crafts and, of course, candy and trick-or-treating.
"It was magical watching the children interact with the residents," Thomas said. "To see the joy in the faces of the seniors when observing and talking to these little children made me understand just how rich and rewarding these relationships are to all parties."
The students in Thomas' class are already planning their next visit in December to celebrate the holiday season. The children are talking and planning what they will do with their newfound friends to make the next visit more fun than their first encounter.
Information from PUSD.
More like this story
SUBMIT FEEDBACK
Click Below to:
This Week's Circulars
To view money-saving ads...