Open house marks 1st anniversary of CCJ shelter, justice center

By
Nanci Hutson
|
HutsonNanci
Originally Published: November 13, 2017 6 a.m.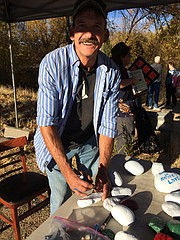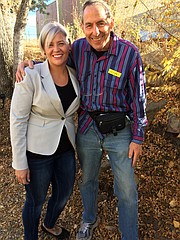 For Major Beesley, the Coalition for Compassion and Justice's Stagger Straight homeless shelter and community center has given him a second chance.
"It gives hope," said the 49-year-old CCJ employee who for seven months was one of the homeless guests in its now year-old facility at 531 Madison Avenue.
On Saturday, Beesley was welcoming visitors to the first anniversary "Rockin' the Creek" open house event for what is officially now known as CCJ/The Howard Mechanic Social Justice Center.
As part of the event, CCJ staff and clients were inviting visitors and supporters to travel along the Granite Creek bed that follows right behind the property, a wooded, rock-strewn area where many of the homeless have been forced to camp before they had somewhere else to go. In preparation for the event, a number of the shelters' 45 to 50 clientele have painted inspirational or spiritual sayings on some of the rocks and strategically placed them in spots where they might offer inspiration to those who travel that path. CCJ Assistant Director Jessi Hans said this project is symbolic to the path taken by many of their guests, some of whom who no longer live at the shelter as they have managed to find affordable homes of their own and jobs that are able to help sustain their independence.
In the last 40 days, Hans said CCJ has been able to find permanent housing for nine formerly homeless men and women.
One of CCJ's former clients, Jill Gibbens, credits CCJ's emergency shelter with giving her a safe place to sleep at night and an address so that she almost a year ago she was able to secure and sustain employment at a local fast food restaurant.
"These guys believed in me," Gibbens said. "I'm so happy."
For much of their 15-year history, CCJ leased space from the Prescott United Methodist Church that still is offering them some space for their Little Tree House children's programs.
The chance for a permanent home came to CCJ through a relationship Executive Director Paul Mitchell built with a local businessman Howard Mechanic, whose first involvement with CCJ was to help them with the down payment on the space that is now home to its thrift store on Fair Street.
Mechanic again stepped in to help CCJ when the need arose for a permanent, long-term shelter operation that would welcome both those with chronic mental illness and addictions as well as those who might be experiencing a temporary housing crisis. He is now essentially CCJ's landlord for the Madison Avenue property that now houses all of the agency's services to the homeless and low-income individuals and families.
At the open house, Mechanic said he is glad to be part of a program that is positively impacting, and changing, people's lives. He said he appreciates that Mitchell and his staff are able to get a lot of "bang out of the bucks" they receive through the community. CCJ accepts no state or federal dollars.
St. Luke's Episcopal Church member Elizabeth Kennedy visited the CCJ shelter and community center for the first time on Saturday.
"I am totally impressed. It's awesome," Kenney said of this one-of-a-kind shelter operation she intends to embrace as a volunteer. I've been involved in outreach, but not to this extent."
Homeless advocate Daniel Mattson said he is delighted to celebrate what has become a true gift to those with nowhere else to go.
"I've seen a lot of people helped here in a big way," Mattson said.
More like this story
SUBMIT FEEDBACK
Click Below to: