Butcher knife attempted assault suspect from Arizona arrested in Utah
Originally Published: November 13, 2017 12:57 p.m.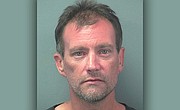 ST. GEORGE, Utah — A suspect wanted by Mohave County Sheriff's Office for allegedly using a butcher knife in an attempted assault on a woman, her children and another man, was arrested Friday in Utah.
On the evening of Nov. 8, deputies responded to a 911 call from a residence in the 600 block of Grand Gulch Trail in Littlefield, Arizona, according to a statement from MCSO spokesperson Trish Carter.
Deputies contacted the female victim, who reported that Floyd James Booth, 47, of Littlefield had burglarized and vandalized her home and a camping trailer on the property. She also told deputies Booth attempted to assault her with the knife, while also threatening her children and the male subject living on the property.
According to MCSO, deputies have responded to multiple calls at the address in recent months.
Despite search efforts at the time, deputies were unable to locate Booth.
MCSO had asked for the public's help in locating Booth after he fled the scene, warning that individuals "should not approach or contact Booth as he has violent tendencies." Authorities were concerned Booth was camping or using abandoned property in the Desert Springs area.
Booth was located and arrested shortly before 1 a.m. on Friday. He was booked into the Washington County Purgatory Correctional Facility. Additional details about his arrest have not yet been released.
Littlefield is approximate 25 miles southwest of St. George.
Initial information provided by the Mohave County Sheriff's Office
More like this story
SUBMIT FEEDBACK
Click Below to: