Prescott war hero devoted to giving back to his hometown that instilled in him his patriotic values
Honoring his fallen patriots and community

By
Nanci Hutson
|
HutsonNanci
Originally Published: November 11, 2017 6:02 a.m.
With his mega-watt smile, hearty handshake and look-you-in-the-eye approach, Stan Goligoski is the kind of guy who commands people's trust and respect.
He's not the type to name drop and boast about his accomplishments, but his military career is mighty impressive.
"I've had an amazing (military) career," said Goligoski, a 1992 Prescott High graduate and Athletic Hall of Famer who grew up as the son of an Army non-commissioned officer, the late Jim Goligoski. His mother, Sharron, still lives in Prescott. "I pinch myself when I think about it."
The 20-year retired United States Army Major, was entrusted to serve as a company commander in Afghanistan and served in Iraq as the 101st Airborne Divisions military intelligence collection manager. He graduated from the Army's Airborne school, enabling him to become part of the Army's most elite rapid-deployment troops. Later he was chosen to be an aide de camp to a military command general in Afghanistan. He served the final three years of his career at West Point teaching tactical maneuvers to cadets.
He earned the Bronze Star Medal as an enlisted soldier, prior to his first deployment to Kuwait, was named the "Hero of the Battle" related to his performance at the National Training Center in Fort Irwin, California.
Goligoski, too, has a collection of more than 250 "challenge" coins given to him by military commanders, including members of the Joint Chiefs of Staff, as recognition of his combat and intelligence leadership.
"I always had a sense of duty," said Goligoski, the father of three children — Ali, 21, Ryker, 13, and T.J., who he and his wife, Janelle, welcomed to the world on Veteran's Day 2016. "I never batted an eye at challenges presented in front of me."
With clarity, Goligoski recalls the words of a young sergeant from Mississippi who approached him in the aftermath of an Afghanistan mission that killed one of his soldiers.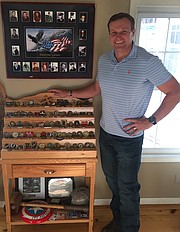 "Sir, you're calmer than a Hindu cow," said Goligoski of what he considered high praise.
"In the midst of chaos, I learned that you have to have a calm presence to get through it," said Goligoski, a tall, muscular man with a military forbearance juxtaposed against a jovial and engaging demeanor.
Four years ago, Goligoski was offered an opportunity at a new career that would enable him to return to his hometown, one he credits to Yavapai County Schools Superintendent Tim Carter, a retired Prescott High principal who was one of Goligoski's favorite teachers and coaches. As he neared his retirement date, Goligoski said Carter called him and offered him a job as the agency's technology director. Within a year, Carter promoted him to executive director.
"When you get to know Stan, you see that part of him that comes from his (military) service," said Yavapai Community Health Services Director Leslie Horton. "He is an outstanding role model … He's one of those people who capture attention but conducts himself in a professional manner. He is so open to new ideas and has a wealth of experience and aptitude.
"Knowing all the things he has done for our country make him incredible, an outstanding person in any circle."
His mentor and boss, Carter, concurs.
"Have you ever tried to be upset with someone who is smiling all the time? It was my honor to induct him into the Prescott High School Athletic Hall of Fame … It was also my honor to pin his second lieutenant bars onto his uniform when he graduated from Northern Arizona University."
After high school graduation, Goligoski headed to NAU but a year later opted to enlist in the U.S. Army. From basic training, he was assigned to three years in a First Calvary Division in Fort Hood, Texas. He was then deployed to Kuwait where he helped the locals learn how to build protective fortresses on the Iraqi border.
Back stateside, Goligoski knew he wanted to become an Army officer. He was given a scholarship to return to NAU to earn a general studies degree. He was given a number of prestigious assignments.
Then came the Sept. 11, 2001, terrorist attacks.
"The world changed that day," he said.
With war on the horizon, the then platoon leader in Fort Wainwright, Alaska, was reassigned to the 101st Airborne Division, where he served as company commander in the Special Troops Battalion.
"You know it's not going to be pretty; it's going to be hard work. But it's why we signed up," said Goligoski, who deployed to Iraq in 2004 and was part of a mission that killed one of Al-Qaida's highest-level terrorists, Abu Musab al-Zarqawi.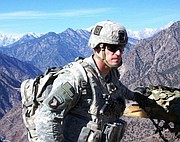 Goligoski wears a silver bracelet on his wrist embossed with the names of five soldiers who died while serving in his units — their selfless sacrifice embedded into his soul. He also wears braces on the lower part of both legs; he earns a disabled veteran pension because of service-related injuries that has caused multiple bone fractures in his legs.
"I don't think we can ever understand the sacrifices he and other veterans have made for our freedom, but you can see it in his eyes," said Prescott Unified School District Joe Howard, a family friend.
"He completely understands what being of service to others is all about," Carter said. "It is in his heart. It is truly who he is, down to the very core."
Click to view our 2017 Veterans Day Tribute edition
Editor's note - This article has been updated to correct military terms and titles, and clarify Goligoski's duties while serving in the US Army.
More like this story
SUBMIT FEEDBACK
Click Below to: