City Council order changes in 'unofficial final' vote count
Scholl is new top vote-getter in council race; Mengarelli is winner in mayor's race

By
Cindy Barks
|
Cindy_Barks
Originally Published: November 9, 2017 11:49 a.m.
Updated as of Friday, November 10, 2017 6:24 AM
With the "unofficial final" election results that were posted late Wednesday, Nov. 8, the Prescott City Council race has a new top vote-getter.
Wednesday's results, which include the several-hundred ballots that were uncounted on election day, Tuesday, Nov. 7, indicate that candidate Alexa Scholl came out as the highest vote-getter among the five candidates seeking three seats on the City Council.
Meanwhile, Greg Mengarelli, the mayoral frontrunner on election night, maintained the lead in the mayor's race.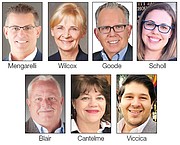 While council candidate Phil Goode had ended the night on Tuesday with 12 votes more than Scholl, the addition of uncounted ballots put Scholl ahead by 67 votes.
The final count does not change the overall outcome election, however: Mengarelli won the mayor's position with a 55-to-45-percent lead over Councilwoman Jean Wilcox; and Scholl, Goode, and Blair won seats on the council – all as indicated on election night.
Laurin Custis, registrar of voters with the Yavapai County Recorder's Office, explained that more than 1,200 ballots countywide still needed to be counted Tuesday night.
The total included uncounted ballots for the Cottonwood and Sedona bond-related issues that were also on the ballot, and Custis says the county did not separate out how many of the 1,200 were from the Prescott election.
But a look at the mayor's race indicates that there were as many as 500 uncounted ballots in the city race. The total number of ballots cast in the mayor's race went from 16,422 on Tuesday night to 16,959 on Wednesday.
Custis cautions that all voters do not cast a vote for every issue on the ballot, so the mayor's race gives a close, but not exact, indication of the number of ballots cast in the city election.
In the final tally, Mengarelli had 9,298 votes to Wilcox's 7,606.
The final breakdown of the council race was: Scholl, 8,690; Goode, 8,623; Blair; 7,954; Connie Cantelme, 7,417; and Joe Viccica, 7,113.
The ballot results are not considered final until the Prescott City Council canvasses them. City Clerk Maureen Scott said that is expected to occur on Nov. 14.
The new mayor and council members are scheduled to be sworn into office on Nov. 28.
Using the mayor's race as an indicator of voter participation, the general election ended up having about 58-percent turnout.
Follow Cindy Barks on Twitter @Cindy_Barks. Reach her at 928-445-3333, ext. 2034, or cbarks@prescottaz.com.
SUBMIT FEEDBACK
Click Below to:
More like this story