Born Country salutes Alabama at Elks Saturday night

Originally Published: November 9, 2017 9:36 p.m.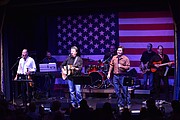 When it comes to playing in Prescott, Lonely Street Productions has found that it's a little bit different than other places, according to one performer.
"Sometimes we'll play retirement communities or active living communities or places where a lot of the crowd's a different generation," said Alex Mack. "But in Prescott, you get all kinds of people and they love their country music … we've had good turnouts with some other shows there like CCR or any of our country rock offerings."
As such, a salute to Alabama seemed like a logical choice, Mack said. It'll be at the Elks Theatre and Performing Arts Center, 117 E. Gurley St., at 7 p.m. on Saturday, Nov. 11.
Alabama has a lot of good songs and are still touring, even doing a show in Phoenix the very next day, Mack said. Not only that, but even though they're a country band, they had charting hits that made it onto the regular charts, he said. As a big crossover act with a lot of hits, it's hard to put everything everybody wants into the show, he said.
Still, the show is going to have a bunch of Alabama fans on stage with a few different singers, a couple different guitar players, fiddle and keyboards, Mack said.
"It's kind of a different approach to maybe what other kind of shows we'd be offering," he said. "You're not going to get the kind of show you're getting from us anywhere else."
Tickets are $25 for adults and $22 for seniors and are available online at www.prescottelkstheater.com, by calling 928-777-1370 or at the door one hour prior to the performance. Assisted listening devices are available on a first-come, first-served basis as well, and should be inquired about to the theatre management.
Like the Everly Brothers show a few weeks ago, there are a lot of harmonies to work with when it comes to saluting Alabama, Mack said. However, this time, this one has three-part harmonies and is more country and southern gospel than the Everly Brothers, he said.
More like this story
SUBMIT FEEDBACK
Click Below to: