'Uncoupling' hoses officially opens new CAFMA building
Admin offices triple in space in new Eastridge facility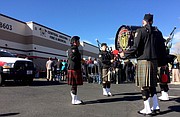 No ordinary ribbon-cutting event for this grand opening. A "new old tradition" took place Monday, Nov. 6, at the Central Arizona Medical and Fire Authority administration building in Prescott Valley that involved an "uncoupling" of two hoses stretched between fire engines.
"Don't let it drop, lay it down softly and gently," advised CAFMA Chief Scott Freitag to dignitaries at the new facility at 8603 E. Eastridge Drive. The Central Arizona Pipes and Drums and Honor Guard opened the hose uncoupling event.
The agency tripled its space from a cramped 3,000 square feet to 10,000, said Assistant Chief David Tharp. Over the years, the organization grew from a handful to 144 full-time employees, and its previous space at Station 53 at 8555 E. Yavapai Road could no longer provide room for its workers.
"Our staff was in small closeted spaces. The HR (Human Resources) person worked out of the kitchen," Tharp said.
The former building will remain a working fire station, with a possible partnership for an onsite occupational health and wellness center for public safety employees, he added.
Freitag thanked Haley Construction for completing the new facility early and under budget. CAFMA utilizes 10,000 square feet and leases an additional 4,000 square feet to Prescott Valley Police Department, which uses the space for evidence storage, Tharp said.
Two mayors in attendance had reason to personally support the agency. Chino Valley Mayor Darrell Croft said CAFMA personnel saved his wife's life. Dewey-Humboldt Mayor Terry Nolan said they saved his life, too.
"A couple of times I had a heart attack and they came and helped me," he said.
Freitag talked about Plan A, doing renovations and adding additional square footage at the old facility. Plan B popped up when he accidentally punched in an incorrect address and saw this building.
"I said, 'Huh. Look at that.' We needed a simple, professional space, and I hope you see that inside," he said to the attendees, adding that his office furniture cost the taxpayers nothing — the couch and chairs came from his garage.
Following the uncoupling of the hoses, CAFMA employees allowed visitors a look inside the administrative and prevention offices with tours and refreshments.
More like this story
SUBMIT FEEDBACK
Click Below to: