Mengarelli elected mayor; Goode, Scholl, Blair win seats on Prescott council

By
Cindy Barks
|
Cindy_Barks
Originally Published: November 7, 2017 11:34 p.m.
Updated as of Wednesday, November 8, 2017 6:15 AM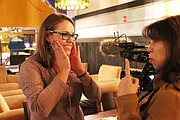 Prescott voters stuck to their City Council choices over the past month and a half: The four top vote-getters on primary night went on to win in the general election, in exactly the same order.
In unofficial results late Tuesday, Nov. 7, mayoral front runner Greg Mengarelli appears to have won a two-year term as Prescott's mayor, defeating current City Councilwoman Jean Wilcox by a 55-to-45-percent margin.
(The results are considered unofficial until last-minute ballots are counted on Wednesday, Nov. 8, when they become 'unofficial final.' The results are not considered final until the Prescott City Council canvasses the vote later in November. Hundreds of votes reportedly still needed to be counted Tuesday evening).
In the council race, the three top vote-getters from the primary — Phil Goode, Alexa Scholl, and Steve Blair — also all held onto their places in the lineup, taking the three open seats.
In the August primary's three-way race for mayor, Mengarelli had a 42-to-30-percent lead over Wilcox, getting 6,950 votes to her 4,923.
In the general election's two-way runoff, Mengarelli received 9,005 of the 16,422 votes cast, while Wilcox earned 7,365.
As he had throughout the campaign, Mengarelli emphasized his Republican Party affiliation Tuesday night, telling the crowd cheering gathered at the Palace Restaurant and Saloon: "I plan preserve the best of Prescott and move us forward with Republican leadership at city hall."
Afterward, Mengarelli said he felt it was vital to let the voters know his party affiliation during the campaign, despite the non-partisan nature of the city elections.
"It's important for people to understand who I am," Mengarelli said. "I thought the best way for them to get to know me was through my party affiliation."
As mayor, Mengarelli said he plans to emphasize economic development and improvements to the airport — forwarding two of current Mayor Harry Oberg's priorities.
With the new council make-up, Mengarelli said, "I think we have a bright future. We have a great council, and I look forward to working with them."
Among the issues he may push as mayor is taking a second look at the business license program that the council approved this past year.
"I'd say I'm business-friendly, and I want to make sure that we make it as easy as possible for businesses to thrive and grow in the city," Mengarelli said, "so I'm always going to be really critical of any kind of extra regulations or taxes that we place on businesses."
Wilcox, who has served as a council member since 2013, said late Tuesday night: "I think my campaign for mayor really built a coalition of independent voters who are concerned about developers controlling the future of Prescott at taxpayers' expense."
She added that the coalition would "remain an influential presence in Prescott, working for a better future with a sustainable water supply, protection of our natural resources, growth that pays for its impact, and includes all people as part of our community."
COUNCIL RACE
Like the primary results, the general election ended in a tight race between front runners Goode and Scholl. While Goode led Scholl by 62 votes in the primary (7,286 to 7,224), he led by 12 votes in the general election (8,386 to 8,374).
Afterward, Goode he plans to work to promote "fiscal discipline" as a councilman, and to ensure that the sales tax revenue from the 0.75-percent sales tax that voters approved in August goes to pay down the unfunded liability with the Public Safety Personnel Retirement System (PSPRS), as intended.
Goode, who currently serves on the Prescott Planning and Zoning Commission, was one of three members to vote against recommending the Deep Well Ranch master plan to the council.
After he takes office on Nov. 28, Goode could be among the council members to make the final decision on the project (depending on the timing of the vote). He says the accompanying development agreement, which is still pending, would be pivotal in his vote. "How the development agreement is structured will have an impact on whether I could support (the project)," he said.
Scholl, who gathered with her supporters at Granite Mountain Brewing on Cortez Street, said afterward that she was "humbled and excited" at the results. And in response to a comment by Blair at The Palace that the 20-year-old would require "some education" as a council member, Scholl said she is prepared for the process.
"A lot of people think I don't know what I'm getting into," she said. "But I know it's a learning curve, and I'm excited for it.'"
Among her first priorities would be getting to know the other council members and determining how to work with them, Scholl said. "That's just politics," she said of the possibility she could be in the minority on issues. "I aim to represent the people of Prescott."
Blair, who was elected to his fifth four-year term on the council, says his long tenure as a councilman likely helped. "I think the institutional knowledge that I had helped," he said.
Also, after 16 years on the council, Blair said, "People know what they're going to get with me — straight-forward talk."
Blair, with 7,728 votes, was about 500 votes ahead of the next-highest vote-getter, Connie Cantelme (7,205 votes). Candidate Joe Viccica received 6,868 votes.
Malcolm Barrett Jr., who served as master of ceremonies at the Palace event, noted that the uncounted votes likely would not affect the outcome of the mayor's race, but could affect the order of the council candidates.
Even the voter participation in the general election was similar to the primary turnout. In the primary, 17,277 voters cast ballots, for 59 percent. In the general, 16,422 cast ballots, for about 57 percent.
More like this story
SUBMIT FEEDBACK
Click Below to: