Yavapai soccer captures 21st West District title
Blanks Pima, heads to National Tournament in Prescott Valley
By
Doug Cook
|
dougout_dc
Originally Published: November 5, 2017 6:05 a.m.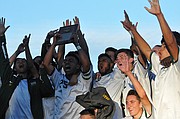 Yavapai College's soccer team clinched a berth into the NJCAA Division I National Tournament with a convincing victory over Snow College (Utah) on Friday. However, the Roughriders were determined not to let up on Saturday against ACCAC rival Pima in the West District championship match at historic Ken Lindley Field in Prescott.
The NJCAA No. 5-ranked Roughriders didn't back down, shutting out No. 8 Pima, 2-0, to capture the program's 21st district title since 1990 behind two goals from star freshman forward Jose "Pepsi" Perez Flores of McMinnville, Oregon, and a phenomenal defensive effort.
Seven-time national champion Yavapai last won a district championship in 2013, when the Roughriders moved on to finish third at nationals in Tyler, Texas. This year, Yavapai will play in nationals Nov. 13-15, 17 and 18 at Mountain Valley Park Amphitheater in Prescott Valley, a mere 15-mile drive from the college's Prescott campus, for the first time in program history. And Pima, despite its loss Saturday, also advanced to nationals.
"It feels really good to win the district championship, and we're just looking forward to starting the national tournament and hoping to make a good run," Yavapai sophomore attacker John Scearce of Phoenix said.
In 2014, Yavapai played host to nationals at Lindley and Mountain Valley, but failed to qualify after losing a 2-1 heartbreaker to Phoenix College in overtime of a regional semifinal match that fall.
"We're just thankful and humble to be here on the field," Perez Flores said of playing at Lindley, the Roughriders' home since the program's founding in 1989, for the district title. "We get to play on the field every day, representing Yavapai College. And I know it's been a while [since we went to nationals], so the coaches deserve it, the staff deserves it and the teammates deserve it."
On Saturday, Yavapai played like the Roughriders of old, scoring first, playing stingy defense throughout and tacking on an insurance goal when necessary early in the second half. Earlier in the season, Yavapai didn't play as fluidly.
"As typical, Mike [Pantalione] got them going [toward the end of the season]," Pima coach Dave Cosgrove said of Yavapai. "He figured out where they were struggling, and he addressed those problems. And, of course, he has good players to plug the holes. I actually think it comes down to their goalkeeping and their defending. The offense comes from the defense."
In a defensive stalemate for most of the first half, it took a brilliantly-placed 20-yard free kick from Perez Flores to hand the Roughriders a 1-0 lead in the 37th minute. The crossing shot traveled from left to right, from the top of the box and into the lower right-hand corner of the Aztecs' goal, where goalkeeper David Silva couldn't make a play on the ball.
"It's something we do during training, and we take it really serious," Perez Flores said of practicing free kicks. "And, today, it worked out for us."
Pima outshot ACCAC co-champ Yavapai, 13-6, in the first half, but the Roughriders' defense, led by sophomore defenders Ricardo Nunez-Arellano, John Kanner, Johnny Ramirez, Isaac Arellano and Andrew Rivera, as well as goalie Justin Motzkus, consistently turned away the Aztecs' attempts.
"Both teams got a lot of opportunities, but they were able to put theirs away," Silva said of Yavapai. "At the end of the day, they were first to the ball on us, we lacked a little bit of 'want.' We just need to get that spark again."
With starting keeper Tyler Trump receiving an off day and in street clothes on the sideline, sophomore backup Spencer Coffin of Chino Valley spent the last 2 minutes and 40 seconds of regulation between the posts. Motzkus earned the victory.
"Coach always says the secret to playoff victories is coming out hard, and we come out hard every game," Motzkus said. "And we've been doing that consistently, and we will keep on doing that consistently as we head into nationals."
In the second half, with the wind and the infield dirt on the southeast side of the field at their backs on offense, the Roughriders became more of an aggressor. They finished the match by outshooting Pima, 21-18. At the end of the 51st minute, Perez Flores found the back of the net on a breakaway from 16 yards out for a 2-0 Yavapai lead. Freshman attacker William Baynham registered the assist.
"He's a great addition – he helps the team in every way, in both ways of the field," Yavapai sophomore attacker Ziyad Fares said of Perez Flores. "He's always open. It's easy to play with him. He makes everyone better around him."
Yavapai's defense continued to fluster Pima in the final half, as the Aztecs' attack couldn't establish any sort of momentum.
"We've got a lot to work on," Cosgrove said. "We got to nationals, but we don't feel good about ourselves right now and the way we've been playing lately. We've got to find a better form, find our rhythm a little bit. We feel like we have it and we can play with anybody. We haven't been consistent."
With the win, the Roughriders improved their 2017 record against Pima to 2-0-2. The Roughriders defeated the ACCAC co-champion Aztecs, 2-1, for the NJCAA Region I championship Oct. 28 in Tucson.
"It's probably the perfect time where we peak leading into the national tournament – going in with a lot of confidence, just hoping to make the best out of it and make a good run," Scearce said.
Since two West District representatives qualify for this year's 12-team nationals, Yavapai (21-2-3 overall record) and Pima (17-4-3) will both go. The Roughriders, winners of nine in a row, will receive a higher seed as the district titlist, however.
"We're just so proud and happy for them that they can actually sit at a national tournament banquet on Sunday night [Nov. 12 in Prescott Valley], and they deserve it," Pantalione said of his players. "We still have a minimum of two matches in front of us."
The NJCAA is expected to announce all of the national tournament's participants, matchups and a complete schedule on Tuesday.
More like this story
SUBMIT FEEDBACK
Click Below to: