3 days remain to vote in city election
45 percent of voters have already cast ballots

By
Cindy Barks
|
Cindy_Barks
Originally Published: November 5, 2017 6:01 a.m.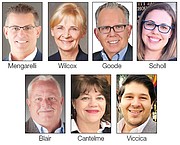 Nearly half of Prescott voters have already cast their ballots, and the rest have three days remaining to vote in the Nov. 7 general election.
Yavapai County Registrar of Voters Laurin Custis reported that 13,090 of the city's 29,030 registered voters had cast their ballots by Friday morning, Nov. 3 — for about 45 percent.
The general election is set for Tuesday, Nov. 7, and voters have until 7 p.m. that day to drop off their ballots.
Custis stressed that the time for mailing ballots has now passed. "Definitely do not mail your ballots," she said. Rather, voters should use the drop boxes that are available at: the County Administration Building, 1015 Fair St.; and Prescott City Hall, 201 S. Cortez St.
Prescott voters will decide four positions in the general election — mayor and three council seats.
The mayor's race features a runoff between Prescott Unified School District Board President Greg Mengarelli, and current City Councilwoman Jean Wilcox.
Mengarelli, 50, has lived in Prescott for 22 years and works as the CEO of the United Christian Youth Camps.
He told The Daily Courier that he chose to run for mayor "to ensure the same opportunities I have had in Prescott will be there for others, whether they are retirees or young college graduates."
Wilcox, 66, has lived in Prescott for five years, and has served on the Prescott City Council since 2013. She is an attorney, and previously worked as a deputy county attorney in Coconino County.
Wilcox said she decided to run for mayor because she wants "to step into more of a leading role on the council. The mayor, along with the city manager, sets the council's agenda, represents the citizens of Prescott to the world beyond our community, and has the most influence in advancing the policies and objectives of the council."
City Council
Along with the mayoral position, three seats are open on the City Council. The candidates include:
Phil Goode, 66, has been a seasonal renter in Prescott since 2010 and a permanent resident for three years. He is a retired senior healthcare executive.
Goode said he decided to run for a council seat because, "Prescott is facing a number of complex issues in the present and future. I have a unique combination of community involvement, and professional and political experience that provide a common sense perspective for the challenges facing Prescott."
Alexa Scholl, 20, has lived in Prescott for all of her 20 years. She is a student.
Scholl said she opted to seek a seat on the City Council because, "Prescott has been my home for my entire life, and I intend on living and raising my family here for many years to come. I am running to protect the vitality of our unique and wonderful community. I want to preserve our quality of life, work to create opportunities for young families, and protect our natural resources and open space. Ultimately, I am running to make sure that Prescott stays Prescott for many more generations."
Steve Blair, 61, is a lifetime resident of Prescott, and works as a window coverings dealer.
Blair, who has served on the council for four four-year terms, said he decided to seek a fifth term because of, "The community asking me to continue forward on council. As a native I believe I have things to offer that other candidates do not."
Connie Cantelme, 60, has lived in Prescott for 13 years. She was the owner of Keswick Construction and Design for 35 years (retired), and is the current owner of The Prescott Wedding Chapel.
Cantelme said she decided to run for council because, "I bought a house right downtown and began to notice the neglect. I also noticed that I had an inordinate amount of recovering drug addicts in my neighborhood. The families had been minimized and the neighborhoods had changed. I decided to get involved to figure out what was taking place. I also realize that all of my nieces and nephews that were born and raised here had left to look for work. I am concerned about our youth and their futures here."
Joe Viccica, 28, has lived in Prescott for five years. He is a student.
Viccica said he decided to run for City Council because, "When I came to Prescott 5 years ago to attend Embry-Riddle, I realized just how challenging it was to retain young professionals in the area. Since then, I've seen dozens of friends and fellow students, who would absolutely love to stay in Prescott, move away for opportunities not available in town. I don't think we've done enough to keep young people here and I'd like to curb that trend."
Unofficial voting results will be available on The Daily Courier's website, dCourier.com and the Yavapai County Recorder's website, www.yavapai.us/electionsvr/, between 7 and 8 p.m. Tuesday.
Ballots that are cast on Nov. 7 will be counted the next day, and a final unofficial tally will be released on Wednesday, Nov. 8. The results will become final after the City Council canvasses them later in November.
The new council members are scheduled to be sworn into office on Tuesday, Nov. 28.
Full candidate profiles are available online at www.dCourier.com/news/elections/.
More like this story
SUBMIT FEEDBACK
Click Below to: