A short list of available super spaces and their hunt for purpose
Large vacant commercial properties in Prescott, Prescott Valley looking for a break

By
Max Efrein
|
mefrein
Originally Published: November 5, 2017 6:02 a.m.
About 13 years ago, before the housing market took a tumble and the economy tightened, Joseph D'Amorr and a business partner decided to purchase a large commercial property on the west end of Prescott at 1519 W. Gurley St.

The majority of the space had been occupied by a Fry's Food Stores, but the company closed the location shortly before D'Amorr and his partner acquired it.
Though the location was closed, Fry's still had two-and-a-half years left on its lease. D'Amorr and his partner figured this was plenty of time to find a new anchor tenant.
"That wasn't the case," D'Amorr said.
The commercial market was in transition at the time, and not in favor of a west-end shopping center.
"Things started to move more east," D'Amorr said.
That trend has shifted a little more north in recent years, but it certainly hasn't reversed, leaving D'Amorr struggling to find a stable tenant. The best he could find temporarily was the Department of Economic Security, which leased about one-third of the space for several years before relocating to a more centralized location in Prescott Valley in May 2014.

At this point, finding the right fit for the main 65,000-square-foot portion of the building is a challenge D'Amorr has been tackling from every angle he can imagine.
His list of potential users includes grocery stores, medical facilities, schools, offices, call centers and even quirkier collaborations, such as creating an indoor farmers' market or something that might serve the youth and their families in the area. "I thought if we could get a Chucky Cheese in there, maybe indoor tennis courts, indoor batting or indoor golfing, or a mix of these, it could just be an entertainment center," D'Amorr said.
It sometimes takes this sort of creative thought process to find a solution to the stagnation large commercial properties can fall into.
"You need to be very flexible," said Scott Armstrong with CLA Realty, who is assisting D'Amorr with marketing the property.
"The building has a lot of potential, that's what makes me crazy — to try to get people to realize that it's there," D'Amorr said.
Universal challenges
D'Amorr is not alone in this variety of endeavor.
Filling a large commercial property is a unique challenge and investors and brokers are keenly aware of the time it often takes to overcome.
Ryan Desmond with Western Retail Advisors, for example, is working to lease or sell the former RoomStore building overlooking Highway 69 next to the Prescott Gateway Mall.
The 42,000-square-foot building became available when RoomStore filed Chapter 11 bankruptcy and closed the location about 18 months ago.
"Obviously, it's a larger building, so that narrows down the types of uses that would work there, but I think the ownership is really interested in exploring all avenues at this point," Desmond said.
Other vacant large commercial properties that are longing for renewed purpose in the quad-city area include the former Haggens and Kmart buildings in Prescott Valley.
Kmart
"You can say that there are some prospects that are taking a look at the building, but that's the furthest it's gone at this point — taking a look," said Ben Hooper, Economic Development manager for the Town of Prescott Valley.
Sitting at about 110,000 square feet, the building located just off Highway 69 next to Goodwill and Safeway has been vacant since Kmart closed the location 18 months ago.
"It's still a great property and we are confident that a developer or potential end user will be successful in securing a tenant or tenants," Hooper said. "Unfortunately it's a little bit of a waiting game as the town (myself) as well as interested parties evaluate what businesses can be successful there."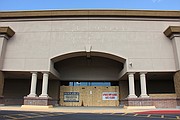 Haggens
As previously reported by the Courier, the property, located at 7450 E. Highway 69, was purchased in February by a local owner under the name LLC Lynx Capital 4.
Since then, David Parker of Goliath Commercial Real Estate has been actively marketing it.
"Four or five people have expressed interest in either all or a portion of the building, but nothing is under contract right now," Parker said.
While the new owner has been waiting for a fresh tenant to fill the space, he has made some improvements to the property, including making upgrades to the roof and resurfacing the parking lot.
He has also taken down the Haggens sign, "but no one should read into that," Hooper said.
"As far as the interior, we haven't done anything just yet," Parker said. "We're just waiting to see who the end user might be. We're hoping to get a grocery store, but we haven't landed one just yet."
More like this story
SUBMIT FEEDBACK
Click Below to: