Prescott's campaign spending tops $200K
Mayor's race more than doubles amount raised in previous elections

By
Cindy Barks
|
Cindy_Barks
Originally Published: November 3, 2017 6 a.m.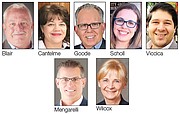 Money continued to flow into and out of the Prescott Mayor and City Council campaigns in the final weeks before the Nov. 7 general election.
By Oct. 21, a total of $202,444 had been collected by the candidates' campaigns, as well as the political action committee (PAC) campaigning against mayoral candidate Jean Wilcox.
That was up significantly from the approximately $161,000 that the candidates and PACs had raised just weeks before — by the Sept. 30 deadline in the third-quarter report.
This cycle's total also is more than double the $94,193 that candidates raised in the 2015 campaign. (All of the mayor/council seats were filled in the August primary that year, so a general election was not necessary). Records from the primaries of 2009, 2011 and 2013 show totals of $54,000, $76,000 and $34,000, respectively.
This year's candidates were required to file their pre-election reports by Oct. 28, and all seven candidates complied, along with the Arizona Free Enterprise Club political action committee.
The bulk of the money is going toward the mayor's race, which pits Prescott Unified School Board President Greg Mengarelli against Prescott Councilwoman Jean Wilcox.
By the pre-election deadline, Mengarelli had receipts of $87,140, while Wilcox had receipts of $50,215. In addition, the Arizona Free Enterprise Club, a pro-growth PAC, had spent $20,639 on internet ads and mailers against Wilcox.
In total, the mayor's race has generated nearly $158,000 so far. That compares with $65,559 that 2015's mayoral candidates Dan Fraijo and Harry Oberg raised.
Mengarelli received 26 contributions in the reporting period, ranging from $50 to $6,000.
His top cumulative contributions included: $6,000 from physician Hojat Askari; $3,000 from Davis Group owner Jeffery Davis; $2,500 from Mandalay Homes owner David Everson; $2,000 from Lamb Chevrolet owner Ted Lamb; $1,500 from Quality Plastics owner Sanford Williams; $1,500 from ReMax Realty Realtor Paul Schneider; $1,500 from Prescott Builders owner Rick Radavich; $1,000 from Hampton Inn owner Dane Beck; $1,000 from Lamb Chevrolet general manager Edward Walsh; $1,000 from Affinity RV owner Robert Been; and $1,000 from retiree Lawrence Neigel. Mengarelli also received a $300 contribution from State Sen. Karen Fann.
Wilcox received 48 individual contributions ranging from $60 to $3,000.
Her top cumulative contributions included: $3,000 from retirees Jim and Ann Sult; $1,659 (individual contributions of $821 and $838) from retirees Valerie and Larry Meads; $1,571 from retirees Rod and Dianne Moyer; $800 from Upland Voice Chief Technology Officer Andy Denis and retiree Toni Denis; and $650 from physician Edward Gogek.
By Oct. 21, Mengarelli had spent $78,980, and Wilcox had spent $46,199.
Prescott City Council candidate totals and top contributions included:
Phil Goode: Total receipts of $14,170, and top contributions of: $500 from retirees David and Carolyn Smith; $250 from retirees H. Scott and Peggy Kerns; and $150 from Eleanor Laumark.
Alexa Scholl: $8,928 in receipts, and top contribution of: $200 total from retiree Roger Swenson (two contributions of $100 each).
Connie Cantelme: Total receipts of $8,786, and contributions of: $1,500 from retiree Jim Lee; $600 from APS sub-contractor Mike McCormick; and $500 from Ponderosa Management Manager Brad Christensen.
Joe Viccica: $7,791 in receipts, and top contributions of: $575 from self-employed business owner Toni Denis; $424 from retiree Jan Manolis; and $160 from retiree Sally Jordan.
Steve Blair: $4,775, with top contributions of: $1,000 from general contractor Mike Fann; $100 from retiree Lois Smith; and $100 from retiree and City Council member Billie Orr.
Voters have until 7 p.m. Tuesday, Nov. 7 to cast their ballots. The next financial disclosure report is due to the city by Jan. 15. It will cover the final weeks of the campaign, running from Oct. 22, and run through the post-election period to Dec. 31.
More like this story
SUBMIT FEEDBACK
Click Below to: