Yavapai spikers advance to district championship match
Visit conference champ Eastern Arizona Friday for shot at nationals
By
Doug Cook
|
dougout_dc
Originally Published: November 2, 2017 6:03 a.m.
Photo Gallery
YC vs Seminole State Volleyball 110117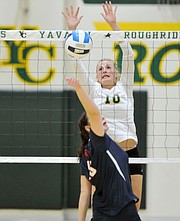 Yavapai College's volleyball team closed out the regular season with three consecutive losses in conference play, which cost the Roughriders a No. 1 seed and a semifinal bye in the NJCAA Division I District B Tournament, as well as a Top 20 ranking.
Nevertheless, Yavapai entered Walraven Gym on Wednesday night ready to turn the page. And that they did.
Jailynn Butler registered a team-high eight kills with seven digs and Nynke DeVries chimed in with seven kills, a block and five digs, as the Roughriders eliminated Seminole State College (Oklahoma), 3-0, in the District B semifinals in Prescott.
"It was kind of an awkward finish [to end the regular season] — we were making too many errors, we had some injuries," Yavapai head coach Zach Shaver said afterward. "We don't make any excuses; we could've won all three of those matches.
"But the biggest difference was that once we got to that point, we went back and looked at the middle of the season when we were playing really strong, and we just said everybody has times in a season where they don't play well. Ours just happened to be at the end, so let's start over."
With the 25-10, 25-22, 25-19 victory over Seminole State, Yavapai (15-12, 8-5 ACCAC) moves on to battle ACCAC champion Eastern Arizona College (21-8) in the district championship match at 7 p.m. Friday in Thatcher. The district titlist will qualify for the national championship tournament Nov. 16-18 at Hutchinson Sports Arena in Hutchinson, Kansas.
Wednesday's turnaround for Yavapai was a result of a shift in priorities.
"We were just really focused on being ourselves — playing to our level and not worrying about the competition, playing how we know how to play, and especially on serve-receive," Butler said. "Serve-receive is a big deal on our coaching staff, so we really tried to focus on passing."
Yavapai first team All-Region I setter Kanani Hiapo, who tallied 13 assists and four digs versus Seminole State, said she and her teammates held a team meeting on Sunday to kick off the postseason and discuss their "ability to refresh ourselves."
"Even though we lost those three [matches to end the season], we still never gave up in those three because we won at least one round [set], so we were always fighting," Hiapo added. "But as long as we were able to get into that rhythm in practice and we just focused more on trying to win this game [match against Seminole State], and then moving on to Eastern, that's what sort of helped us along the way."
Roughriders sophomore middle blocker Bailey Anderson of Prescott added that the team-only meeting was positive and reinforced how well the team had played for most of the season.
"We came out with the attitude like, 'We've got this. We have this. Let's do it,' " Anderson said.
On Wednesday, Yavapai improved its all-time record to 3-1 against Seminole State, which ended its campaign with a 14-14 record. Seminole State coach Raeleigh Shockley said her team, which includes 11 freshmen, had some issues with shoring up its communication on the floor this fall.
"Only having two sophomores, two leaders on the court, it's kind of been a struggle for us to kind of get it together and focus, making smarter plays and decisions and stuff out there," Shockley added. "But they've gotten a lot better towards the end of the season of being able to work together."
The Roughriders last reached nationals in November 2015, when they swept Seminole State in Prescott to capture the NJCAA District C championship. Yavapai went on to lose its first two matches at nationals.
UP NEXT
Yavapai travels to Thatcher on Friday to battle Eastern Arizona for the District B championship. First serve is at 7 p.m.
The Roughriders compiled a 2-1 record against Eastern during the regular season. They won 3-2 on Aug. 31, and 3-0 Sept. 29, but lost in four games Oct. 20 in Prescott. Yavapai's sophomores own a 3-0 overall record against the Gila Monsters in Thatcher.
"Consistency is the most important thing for us right now," Shaver said. "That's why we lost those last three matches. We just have to keep lowering the errors a little bit so that we're in position to be more consistent from start to finish."
More like this story
SUBMIT FEEDBACK
Click Below to:
This Week's Circulars
To view money-saving ads...