Picture this: Courthouse Christmas Lighting fundraiser
Originally Published: November 2, 2017 6:53 p.m.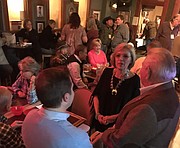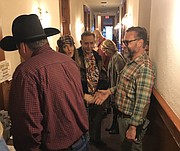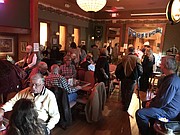 The 10th annual Jersey Lilly fundraiser for Prescott's Courthouse Lighting was center stage this evening at the Jersey Lilly Saloon.
Many people turned out at the Whiskey Row saloon Thursday, Nov. 2, to kick off the annual Friends of Jersey Lilly fundraiser – mingling, bidding, and having fun.
Silent and live auctions were in the works, which former Jersey Lilly owner Tommy Meredith helped preside over.
The Friends of Jersey Lilly 2017 Courthouse Christmas Lighting Fundraiser Kick-off Party also included a raffle of "Holdin' Position," sculpted and donated by Bradford J. Williams.
The money from the fundraiser goes toward the approximately $80,000 cost of the annual lighting at the Yavapai County Courthouse Plaza (set for 6 p.m. Saturday, Dec. 2, this year).
Watch dCourier.com and The Daily Courier for the tally of how much the Friends of Jersey Lilly raised this year, expected in about a week.
More like this story
SUBMIT FEEDBACK
Click Below to: