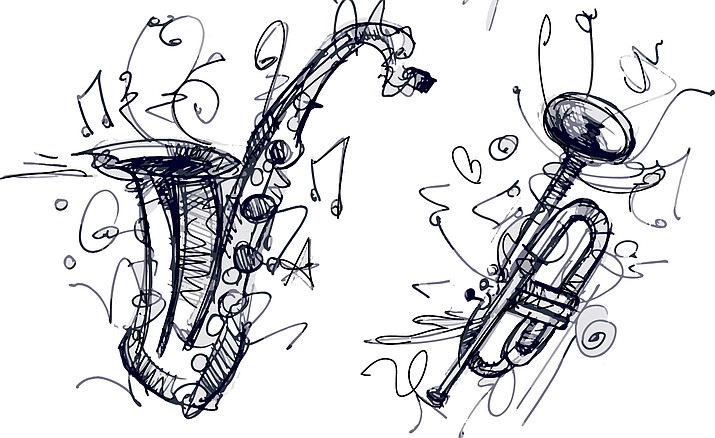 Originally Published: November 2, 2017 9:26 p.m.
Noble Hathaway is on a mission to bring a knowledge of jazz and swing to Yavapai County, doing so through jazz workshops at the Elks Theatre and Performing Arts Center.
For six months, the Prescott Jazz and Swing Conservatory has been having workshops at the Elks Theatre, Hathaway said. It's open to all musicians and their instruments as well as those wishing to attend to enjoy and listen. The next workshop is Saturday, Nov. 4, at the theater, 117 E. Gurley St., from 9 to 11 a.m. on the third floor, Event Hall One.
"It's more of a purist organization to try and teach people old-fashioned jazz and swing stuff and improvisation," Hathaway said. "There are a few people who do it, but not very many."
This particular workshop is about Duke Ellington and it will consist of taking half a dozen songs, he said. The students receive charts and other information beforehand, they do their homework ahead of time and the group will sit down and play it at the workshop, Hathaway said. Having done this successfully 15 or 16 years ago in Phoenix, it makes good musicians, he said.
The songs are also dissected, Hathaway said. Some of them have history and some don't have a lot of information available about them, he said.
"With this one and Duke Ellington, we try to pick up what was his intent for why he wrote it, what was his reason," Hathaway said. "He had quite a sense of humor and things like that. If we know about it, we teach the history, too, about each song and the composer."
The workshop is going to be very focused on swing, jazz and the combination of the two, he said. There won't be a lot of modern jazz because that doesn't involve much swing, Hathaway said.
It's all about trying to teach people what is kind of a lost art, he said. The workshops won't ever have hundreds of people at them because not too many people have the skills to play jazz or swing or don't want to, he said. Any person of any age can enjoy it though, Hathaway said.
"I don't care what age you are if you like it," he said. "We got a guy that's 70 years old, he just started playing guitar. He's just crazy about this stuff."
Tuition for the workshop is a $12 donation at the door and proceeds go to the Ann Dater Memorial Scholarship Fund for the Performing Arts.
Students interested can contact Hathaway at noblehathaway@gmail.com or at 623-687-4251 to register for this or future workshops. Workshops will be done once a quarter at the Elks Theatre and Performing Arts Center, Hathaway said.
More like this story