Column: Pictures and poison

Originally Published: November 1, 2017 6:02 a.m.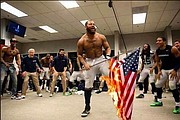 Links
Numerous fact check sites address this photo. Here's one:
http://www.factch...">www.factcheck.org...
One of many sources of the idea the left wants to go full Marxist, the books of multiple best seller David Kupelian. In the "Look Inside" free sample on this Amazon page is a long excerpt of exactly that.
Lots to cover, short space: A photo of football players dancing was modified to look like a flag burning, then distributed widely. Some people who think mainstream news is fake get "news" like this from social media and email chains. They never know it was fake.
Why would faking players burning a flag even make sense? Taking a knee is a somber protest against prejudice, not against the country. It makes sense because in the more thoughtful past, conservatives thought liberals were well-intentioned but wrong, and wasteful with tax money. In today's win-at-all-costs politics there's a whole industry of making the left and minorities and others out to be evil, intent on destroying all that's good.
A fake world where players hate the country and would celebrate burning our flag, where the left really wants communism and wants to destroy not just the country but Western culture, where environmentalists just want to gum up business with regulation to destroy our economy, where progressives really want to enslave people and want the government to give them money to make them submissive. Don't believe me? See the links with this column. And look at the picture.
The effect is that some have in the back of their mind a notion of others that is not much different, in a sense, than the image of ISIS. Not exactly the same but similar in that, we think of ISIS as a mindless mass intent on destroying everything good, who would celebrate the downfall of good people. The news of people in Middle Eastern cities who fell to them prove it.
While not quite the same, the image of the left and of minorities as a mindless mass intent on ruining everything good and who would celebrate the downfall of good people, is similar. For those who buy what these hate-mongers offer, there is a similar fear in the back of their mind. A shapeless, anonymous, mindless something out there that is their enemy. Even those who don't buy it have a little residue left from it passing through their mind. As Francis Bacon said, it is the lie that sinks in and settles in that does the harm.
When we of the left occasionally encounter real anger at us, we scratch our heads and think, we just want all people treated the same, want the Earth not trashed, want workers to get a fair deal. Why hate us?
Why? This is why.
As a columnist I obviously love the debate of ideas. When some spread hateful lies about others, that's not a competition of sides, that's a destructive act that poisons everyone. We, here, are the same flawed human species who turned, neighbor against neighbor among the Serbs and Croats, who turned against countrymen in Rwanda, who led to the gas chambers. These lies and hate are the same kind that preceded all of those.
Am I being over the top? Well, some people have built a whole network to create lies like that picture, and get them spread widely and quickly. What are they trying to do?
Tom Cantlon is a local business owner and writer and can be reached at comments@tomcantlon.com.
More like this story
SUBMIT FEEDBACK
Click Below to:
This Week's Circulars
To view money-saving ads...