Two arrested in auto burglaries, police say lock your car doors
Auto burglaries go 'up and down like a roller coaster'
Originally Published: November 1, 2017 6:02 a.m.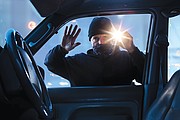 Guns taken from unlocked cars in two recent cases
The Daily Courier
The suspects who cleaned out an unlocked vehicle on Oct. 24 in the 3700 block of Valorie Drive took a .45 caliber Springfield handgun, according to Prescott Valley Police spokesman Jerry Ferguson. The suspect also got away with an extra magazine, and inside them were jagged edge hollow-point bullets.
Then, in the Oct. 29 theft in Dewey, the thief stole a .38 special Taurus M5 revolver, YCSO spokesman Dwight D'Evelyn said.
Thefts from vehicles involve guns more often than police would like, D'Evelyn said.
"It is definitely a serious problem. These stolen guns can be used to victimize others," he said. "Fortunately it is not a majority of the cases reported, but one gun in the wrong hands is too many."
"Sometimes juveniles are involved in these crimes," said Prescott Police spokesman David Fuller, "which would be concerning also.
"Anytime that a weapon is used, or potentially used, during the commission of a crime, it raises the stakes involved," Fuller added.
With vehicle burglaries becoming a common crime of opportunity, law enforcement officers are advising people to take the simplest precaution: lock the doors.
On Sunday, Oct. 29, a burglar in the 1000 block of Upper Gold Road in Dewey, went through two unlocked vehicles, said Yavapai County Sheriff's spokesman Dwight D'Evelyn.
"Neighbors reported seeing a younger male, in his 20s, 'jogging' on Leprechaun Road — which intersects with Upper Gold Road — at least twice over the weekend," D'Evelyn said, but this man was not dressed for exercise; he was wearing jeans.
It's unclear if he is related to the theft, D'Evelyn added.
Days earlier, Prescott Valley Police arrested two people — Teddy Martin, 23, and Sarah Lemaitre, 29, both from Glendale — and charged them in connection with multiple vehicle burglaries that took place between Oct. 22 and Oct. 25.
The pair had allegedly taken credit cards and used them in several stores; they are also suspected of stealing a handgun from a vehicle on Valorie Drive.
The vehicles from which they stole were unlocked.
The numbers of thefts from vehicles go "up and down like a roller coaster," said PVPD Sgt. Jason Kaufman, "but we always seem to have them."
D'Evelyn said the "basic crime fighting tool" in these cases is "take, lock (or) hide." He offered some tips to avoid becoming a victim:
• "Lock your vehicle. It seems so simple, but many residents continue to believe their private driveway is somehow a 'safe zone' from criminals. Yes, it takes seconds to break a window, but doing so makes noise — and criminals hate making noise. Alarms can be a deterrent.
• "Hide valuables from sight, or better, take items with you. If a criminal doesn't see anything, they're less likely to break in, and will go to the next vehicle and window shop. In the case of commercial areas, hide valuables before you park in the place you're leaving your vehicle .If a criminal sees you put a laptop in the trunk, they'll just break into the trunk when you leave.
• "Trailheads are a prime target for vehicle burglars as they know most hikers try to carry as little as possible with them, and this results in the high probability valuables remain inside the vehicle. They also have time on their side as hikers may be gone for several hours, leaving their vehicle unattended.
• "Park in areas that are not secluded. Well-lit parking lots and driveways, with good 'sight lines.' make it more likely your vehicle is visible to the general public … Remember, criminals don't like witnesses.
• "Record serial numbers of property you may leave inside your vehicle. If stolen, it makes it more likely the suspect, if he tries to pawn, will be identified, D'Evelyn concluded.
"Most of the incidents we see are due to people leaving valuables in their vehicles and then not locking their vehicles," Chino Valley Police Lt. Vince Schaan said. "So, we recommend that all valuables be removed and you lock your vehicles."
He added that CVPD participates on social media in the #9pmroutine campaign, which originated in Florida this summer and has caught on nationally. It's a reminder to make sure vehicles and homes are locked up at 9 p.m. each evening. 
Auto break-ins have gone up 28 percent in and around San Francisco in the last year, with news media reporting that equals 85 thefts a day.
One technique that some Bay Area drivers have been trying, mostly without success: placing placards in their window that say, "No valuables inside."
More like this story
SUBMIT FEEDBACK
Click Below to: