Ceremonies in Prescott honor the fallen
Originally Published: May 30, 2017 6:02 a.m.
Ceremonies in the Prescott area on Memorial Day - Monday, May 29 - honored the nation's men and women who died in service of their country.
Photo Gallery
Citizens Cemetery Memorial Day 2017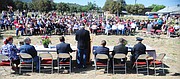 A Memorial Day ceremony modeled on the inaugural 1910 event was held at the 153-year-old Citizens Cemetery. The observance included speeches by former Arizona Secretary of State Ken Bennett, U.S. Rep. Paul Gosar, Prescott Mayor Harry Oberg, Yavapai County Supervisor Jack Smith, and USMC veteran and member of Daughters of the American Revolution Tina Bourdon.
Laying of the wreath was done by Gold Star Mother Jasmine Crowl, and Loyce Johnston of Prescott National Memorial Ladies.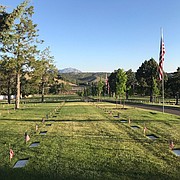 At the Prescott National Cemetery, near the VA Hospital and at the intersection of highways 89 and 69, a Memorial Day ceremony was also held. Speakers included Rep. Noel Campbell, R-District 1; John McKinney, commander Korean War Veterans Chapter 311; and Anahi Fuentes, Granite Mountain Young Marines.
Citizens Cemetery is the most historic cemetery in the Prescott area. It opened when the city was founded in 1864.
Over the years, the 6.5 acre, stone-walled cemetery has been known by a number of names: Town Cemetery, Prescott Cemetery, City Cemetery, County Cemetery and Citizen Burying Ground. The cemetery held burials until 1933, according to the Yavapai Cemetery Association website.
Located on East Sheldon Street, Citizens Cemetery was purchased from private parties by Yavapai County in 1884. In 1994, the cemetery was listed in the National Register of Historic Places. The cemetery association states that it is estimated there were some 3,000 burials on the grounds, but only about 1,000 of the plots are marked.
"Citizens Cemetery contains the remains of a wide spectrum of individuals who settled and developed central Arizona during the late 19th and 20th centuries. The young share their final resting place with the very old, the wealthy with the poor and the bad with the good. Veterans of several wars are interred at Citizens Cemetery," states the association website.
Since 1995, association volunteers have worked closely with county leaders to preserve, restore and protect the cemetery.
More like this story
SUBMIT FEEDBACK
Click Below to: